Layers allow the user to turn geometry on or off based on the organization of the original 3D file. This is ideal for showing different model configurations, toggling between materials, or viewing different furniture arrangements.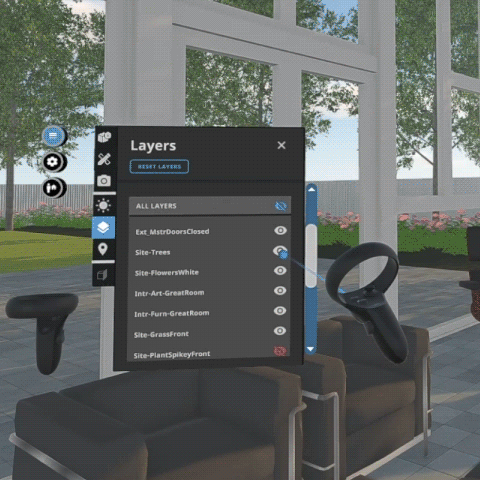 Navigation
To operate the layers menu, first bring up the menu toolbar while in Prospect. Select the layer icon to bring up your options.
With the Oculus controllers, point and click on the layer you'd like to toggle on/off. Use the controller to operate the scroll bar on the right-hand side of the toolbar to view the list of layers that exist within the model. With the HTC Vive use the controller to point at the layer to toggle between on and off and move scroll bar on the right-hand side. Additionally, depending on your controller set up, you can use either joysticks or touchpads to scroll through the menu.
You can access the layers menu both when in scale model mode, and when navigating within your model.
Revit, Rhino and Sketchup files have automatic layer associations assigned to them in Prospect. For more fine-tuned control, we are working on support for design options directly from Revit and this feature will be implemented in a future release.
When importing a file from Rhino, layers behave exactly as they would in the original file. The visibility behavior of objects belonging to nested layers is fully supported in Prospect, though parent and child layers are currently shown in a uniform list in our menu, as shown below.



Door Fade
For Prospect to detect and auto-fade doors as you teleport through them in the model, the geometry for that door must be on a layer called "door", "doors", "A-Door". Additional languages are not yet supported and fading of doors currently pertains only to those labeled in English.
Additionally, the following objects/elements will fade when teleported through:
BIM-identified elements that are Door objects.

Element(s) or groups of elements that include "door" in the name.

Element(s) where the component and definition includes "door" in the name.
For more information about doors, windows, and glass, please check out this article.
Notes
When importing a file from SketchUp, all layers are automatically pulled into Prospect, and layers that were hidden when the SketchUp file was last saved remain hidden in Prospect when the file is launched. If you're having trouble with layers from a SketchUp file, make sure that you've associated your layers with groups or components rather than entities.

When importing a file from

Revit, model components and model geometry are automatically gathered and grouped according to the AIA standard export settings. Any objects that aren't able to be categorized under this AIA standard are then grouped into a "Default" Layer. The naming convention for these layers closely follows the National CAD Standard format

Due to the constraints of the various software used to export

. Obj files and FBX

imports are likely to experience incompatibility when using the visibility settings feature.