Adjustments in-VR: While in-VR, you can use the Display Settings to toggle on/off materials, outlines, and enhanced glass. As of Prospect 2.10 - this feature has relocated to the top of the Settings menu, joining all other in-VR settings available to users instead of being a stand-alone tool.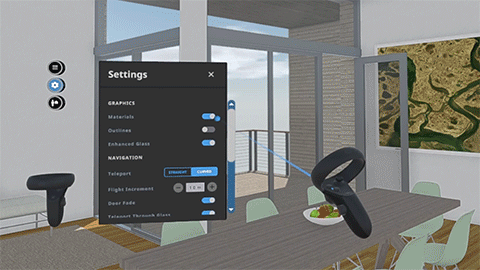 Click on Display Settings to toggle options on/off
Adjustments in the Prospect Library: The Prospect Library allows you to set your Display Settings preferences at the file level or as a default for all your experiences.
To adjust them globally, go to the gear icon on the top right corner in the Prospect Library, then scroll down to Display Settings. Here you can adjust Ambient Occlusion, Enhanced Glass, Materials and Outlines.

Prospect Global Settings
To adjust them on a per-file level, click on the file within Prospect Library, then set preferences on the right-hand side panel.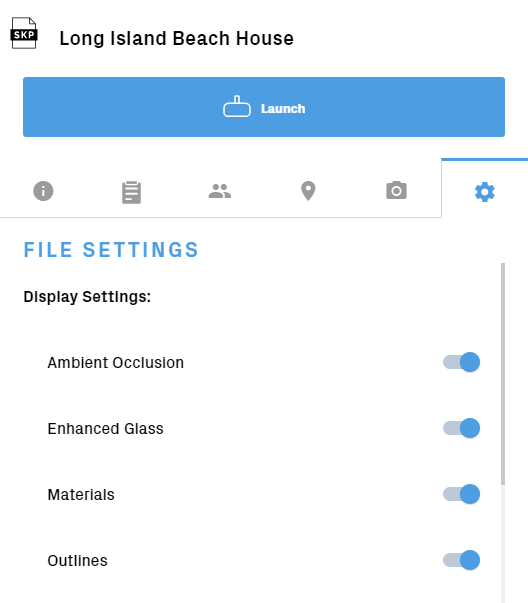 Per-File Prospect Display Settings
If using Prospect without a headset connected or with our Desktop Menu, you can use M key for materials and the O key for outlines, or expand the Desktop Menu to choose with your mouse.
Ambient Occlusion is a shading technique that improves realism by approximating how much ambient lighting would hit a surface. You'll see this manifested in Prospect in corners where objects meet, where a shadow can be seen. To disable this setting you must do it from the Library settings.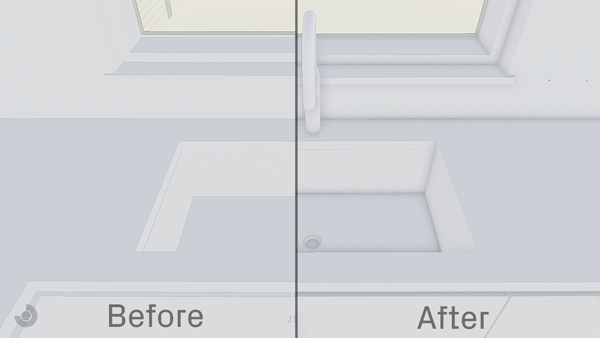 Before and After Ambient Occlusion
Prospect automatically detects glass and styles it to appear more realistic, this can be disabled at any time via the in-VR menu, Desktop Menu or Library settings shown above under Enhanced Glass.