With the Reports feature, you'll be able to log and annotate flagged elements and screenshots for easy review once your VR Meeting or session has concluded. The Report will export in a PDF format which allows for quick distribution and record keeping.
---
What's included in a Report?
Screenshots and Flagged Elements will automatically be included in your report, along with any markups or callouts visible at the time they were created.
Text notes can be added to your report either in real time from the PC or after you conclude your session. More on this later..
Basic BIM data will be included for any flagged elements if you're viewing a Revit file.
To create a Report
Open a 3D file in Prospect and select the Inspect Element tool on your left-hand menu.
Once this tool has been opened, you will be able to "flag" an element by selecting it and clicking "Flag & Add to Report" on the menu.
After flagging, you will see a notification that the element has been added to your report - it's as easy as that!
As for Screenshots, they will be added to your Report automatically, as long as "Include in Report" has been checked in the Screenshots menu.
Adding Notes to a Report
As mentioned above, you can add notes to your Report in two ways - during the session or afterward.
For adding notes after the session, go to the Reports tab in your Prospect Library, and all of your screenshots and flagged element images will be present. There will be a text box associated with each image allowing you to add notes or directions.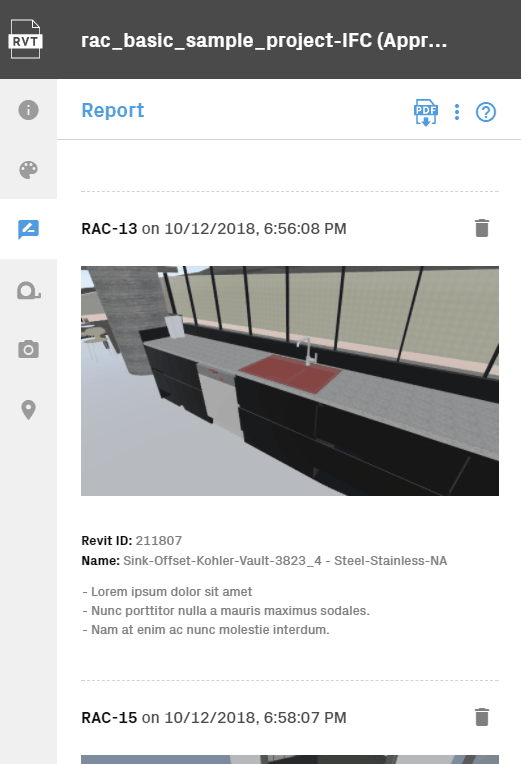 Scroll through your Report items and add notes in the correlating text box
For adding notes during the session, you may opt to have a colleague follow along on the PC. They will be able to add notes in real-time since flagged elements and screenshots will display in the Reports tab as soon as they are captured in VR. The note taker can also visually follow along by adjusting the windows so that both the Prospect Desktop Library and the VR session are in view.
Exporting a Report
Click the PDF icon in the top right corner of the Report tab in your Library

Name the Report and click save
The Report will then open in your default PDF viewer, ready to be emailed printed or shared with colleagues!
Notes
In the multi-user Meetings feature, only screenshots and flagged elements from the host will appear in the Report.

If you plan to add annotations to a flagged element, make sure to do so before flagging so that your markups are shown in the correlating image that's saved in the Report.