How to Launch a Navisworks File into Prospect
Open your file in Navisworks Manage or Simulate (2017-2024)

Use the selection tree or section box tool to hide geometry that contains particularly large, dense or complex elements, or any layers you don't need in VR. Learn how to optimize your file here.
Navigate to the IrisVR tab on the Ribbon > click View in VR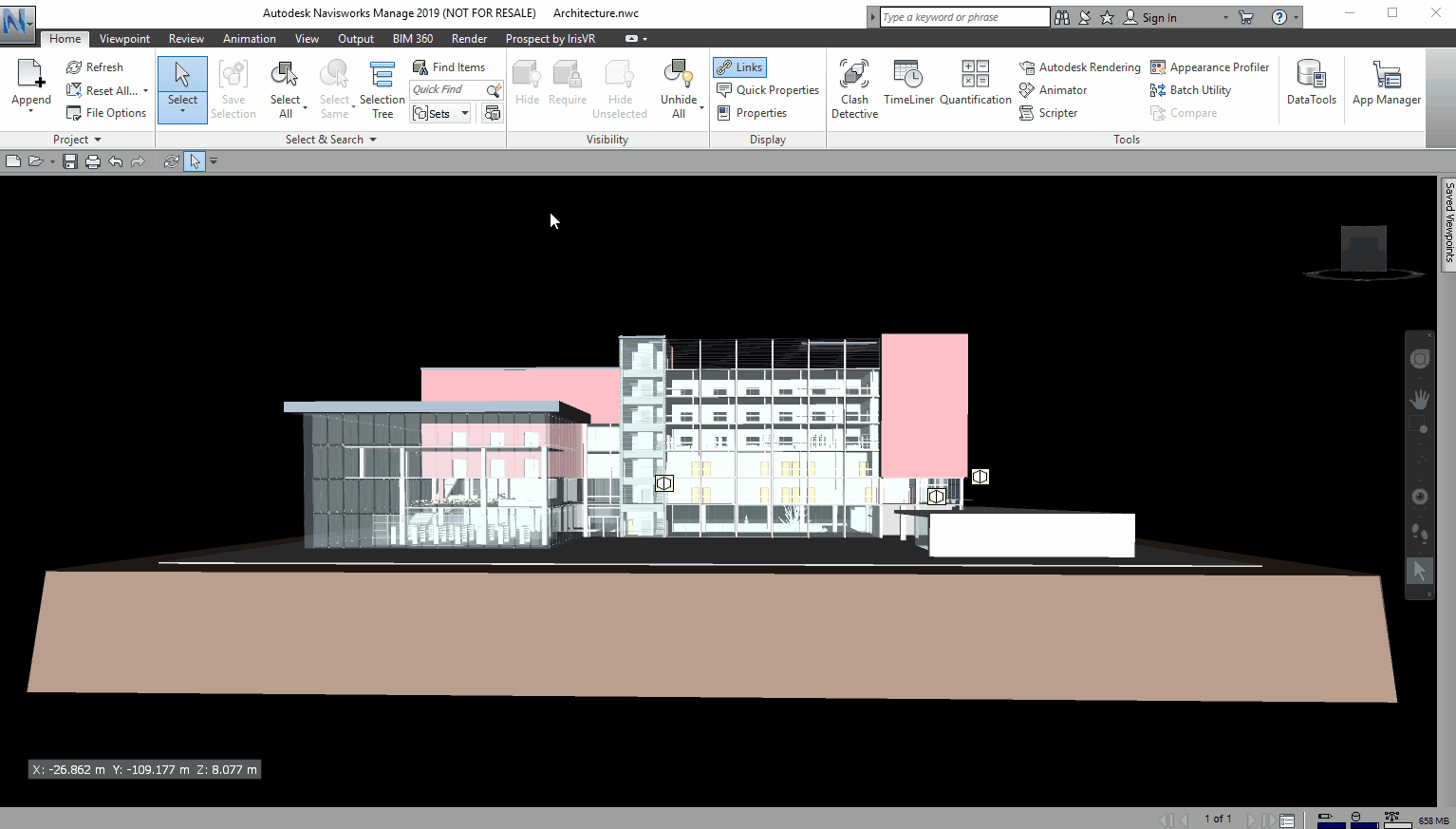 Select Desired Viewpoints & Properties
Use the Viewpoints tab to choose the specific viewpoints and camera positions you wish to export

Use the Properties tab to choose what BIM metadata you would like included in the export these configurations will persist for subsequent launches until changed

Click "Start Processing" and Prospect will automatically collect, export, and optimize your file's geometry. After processing, your file will be ready to enjoy in VR! For Prospect Basic (legacy) users the experience will immediately load, and for Prospect Pro, Pro Plus and Workstation users, the experience will open in the Prospect Library.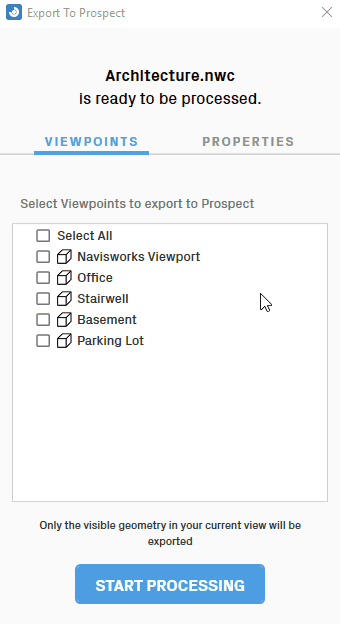 Loading Times: Large files will experience long load times. If the process takes longer than 15 minutes, consider canceling and reducing the file complexity. Learn how to optimize your file
File Updating

Note: File updating is only available for files exported using version 2.12* or newer.

What is file updating?
File updating allows you to update the existing file in your Prospect library with the latest geometry from your source model while bringing along any issues, annotations, and photos created in Prospect previously.
How it works:
When exporting an updated file, be sure to save the file to the same Project in your Prospect Library. Navisworks files will be updated if the file* and Saved Viewpoint selected (as applicable) before export match an existing file in the Project.
If you do not wish for files to be updated, you may turn off the feature in your Settings section toward the top right corner of the Prospect Library under the "File Processing" section.
Notes: .NWF files for subsequent file updates work best. Tip: Creating a specific VR Viewpoint in your Navisworks project is helpful to ensure consistent exports update as intended within Prospect.


---
File Specific Settings
File Types
Navisworks supports the import of dozens 3D and BIM file formats. To support Navisworks, we need to build and test each Navisworks supported format individually. If you experience any seemingly unexpected behavior with geometry within your Navisworks file, please send us a message with details about the type of files you're working with.
File Updating
File Updating works best when working from the .NWF file for subsequent updates.
Sun Position
Geolocation, if available from the native file, is exported to Prospect for the Sun Settings tool. If none exists, the default is 0,0,0.
Origin Point
Performance in-VR works best when the model is located on or close to the origin point of (0,0,0) - utilizing a version of your model near this origin point is a best practice when exporting and processing the model to view in-VR.
Section Boxing
We currently support sectioning through the "Box" or "Plane" mode in Navisworks. This tool can be used to reduce the size of a model, which typically increases performance in-VR. Learn how to optimize your file here.
Materials and Textures
Textures are not supported. Instead, textured faces are assigned color values.
Objects with multiple materials from Revit will get split into unique building elements when they're imported into Navisworks. This means in Prospect, both sides of the wall will be individually selectable and appear to be unique, independent objects.
Example: If a wall in Revit (single building element) has a different color on each side, it will get imported to Navisworks, and then Prospect, as two elements.
Visibility Settings
With files exported with Prospect version 2.11 or newer, users have a higher degree of control over geometry visibility in VR, based on the information contained within your Navisworks model.
Mix and match Visibility Settings between geometry within the following:
Selection Sets

Nested Documents

Any Revit sets present in linked Revit files

Layers

DWG DWF Layers in VR is based on the element's placement in the selection tree in Navisworks.
Please note - phasing and animation sequences are not currently supported.
Viewpoints
Any saved Viewpoints are imported as Prospect Viewpoints and are camera positions only. Layer states, visibility settings, etc. are not yet supported.
BIM Metadata
Use the Inspect Element tool to point and click on any geometry in the scene. Once selected - the menu will display their element-level BIM metadata in-VR.
---
Supported Versions
Navisworks Manage 2017-2024

Navisworks Simulate 2017-2024

Navisworks Freedom does not support 3rd party plugins and is therefore not compatible, users will need a version of Navisworks Manage or Simulate 2017 or newer.

Plugins install alongside Prospect Software and do not have separate installers at this time.