The Rhino plugin will only work with the 64-bit version. For best results, please upgrade to the latest Rhino release, which can be found here.
Get Started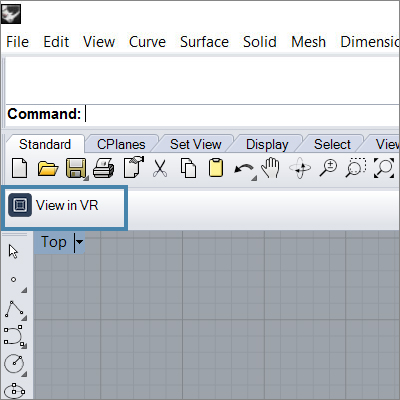 To view your project in virtual reality using Prospect
Open your file in Rhino
Click "View in VR" plugin button, automatically added to your toolbar after installing Prospect. 
A Rhino file can have a great amount of geometry and consist of different layers where you have set up different options for a particular section of your project. Here you will learn how to limit what gets exported into Prospect and how to set up design options using Rhino layers.
Geometry Filtering
If you have a large file or you only want to review a specific part of your project, select the objects that you don't want to have access to in VR and hide them.
The Prospect plugin for Rhino exports all the geometry in the file except for those that have been hidden using the command Hide. 
Named Views
You can set cameras as scenes in Prospect using Named Views (NamedView in the command line) in Rhino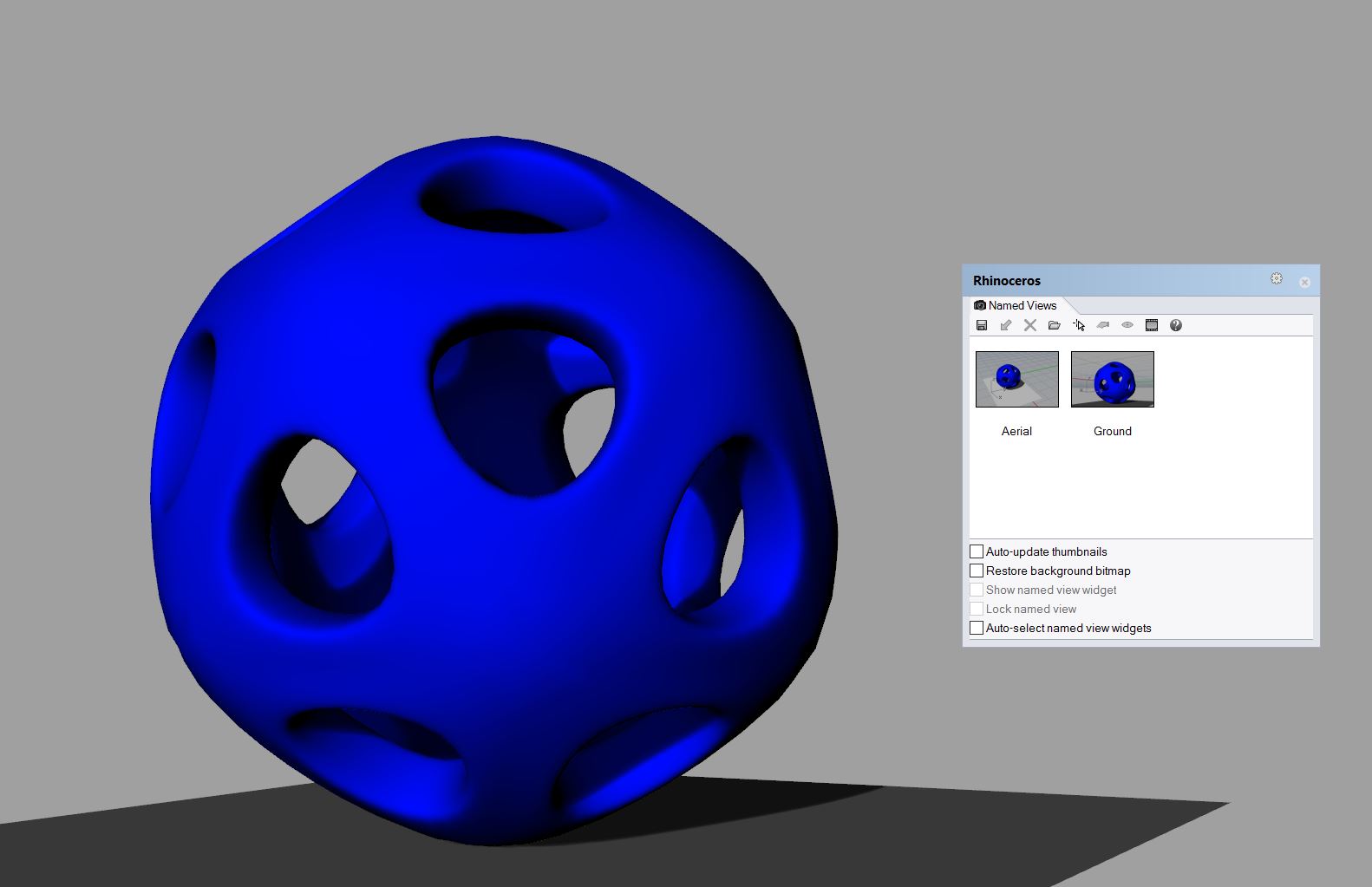 Design Options
In the Prospect plugin for Rhino, the objects in layers that are set to 'off' will still be exported, but they will be hidden when you first load your experience in VR. This is handy while setting up design and material options to be reviewed immersively.
In the example below, we have copied the geometry into each of the Option layers. The layers have different materials assigned to them. Toggling on and off these layers in Prospect will show you the different material choices.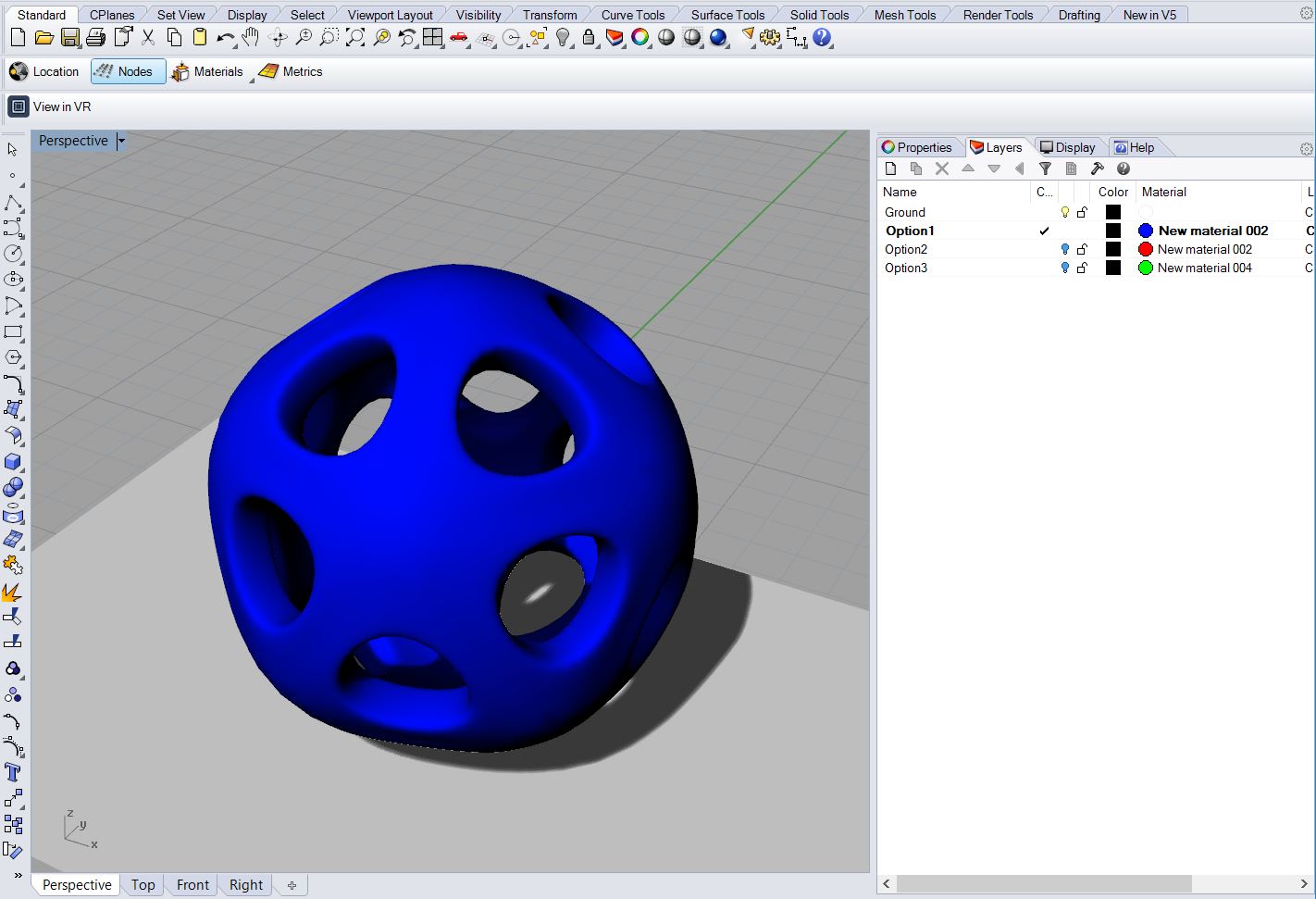 Layers in Rhino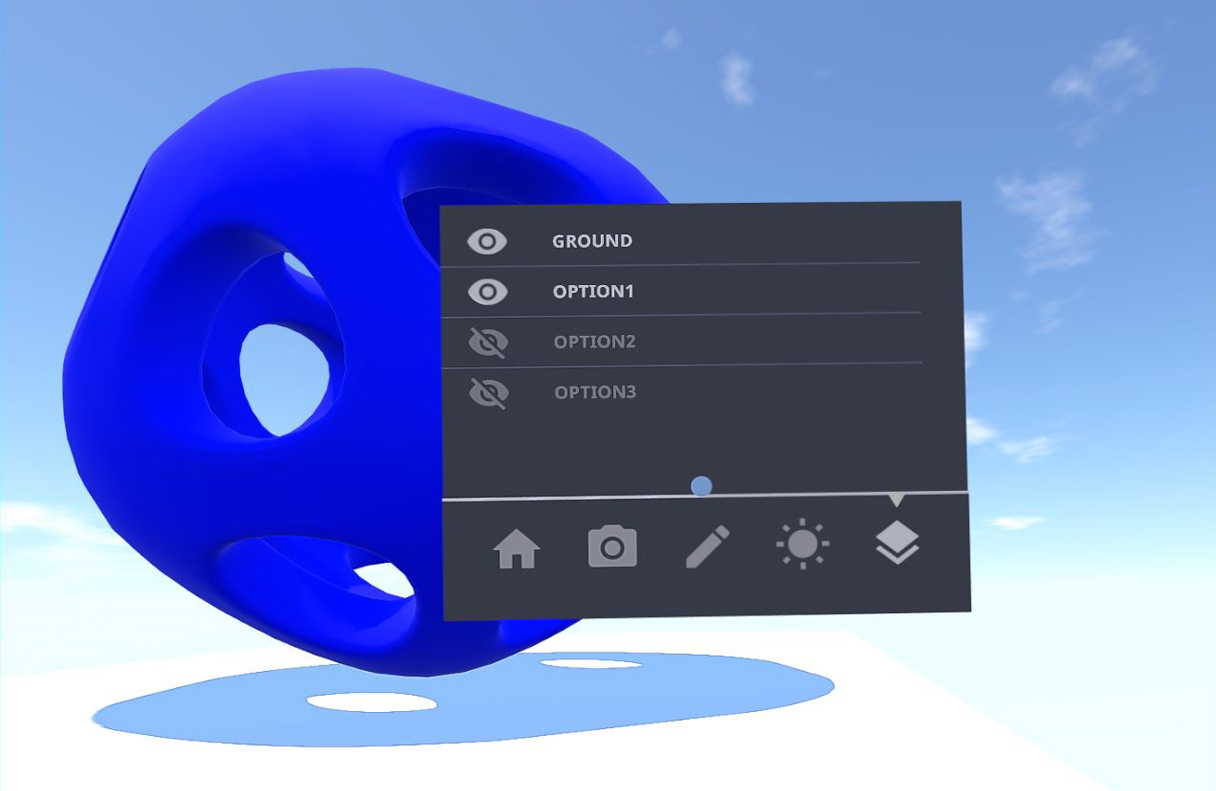 Option 1: when Prospect first loads, it matches the state of the layers in Rhino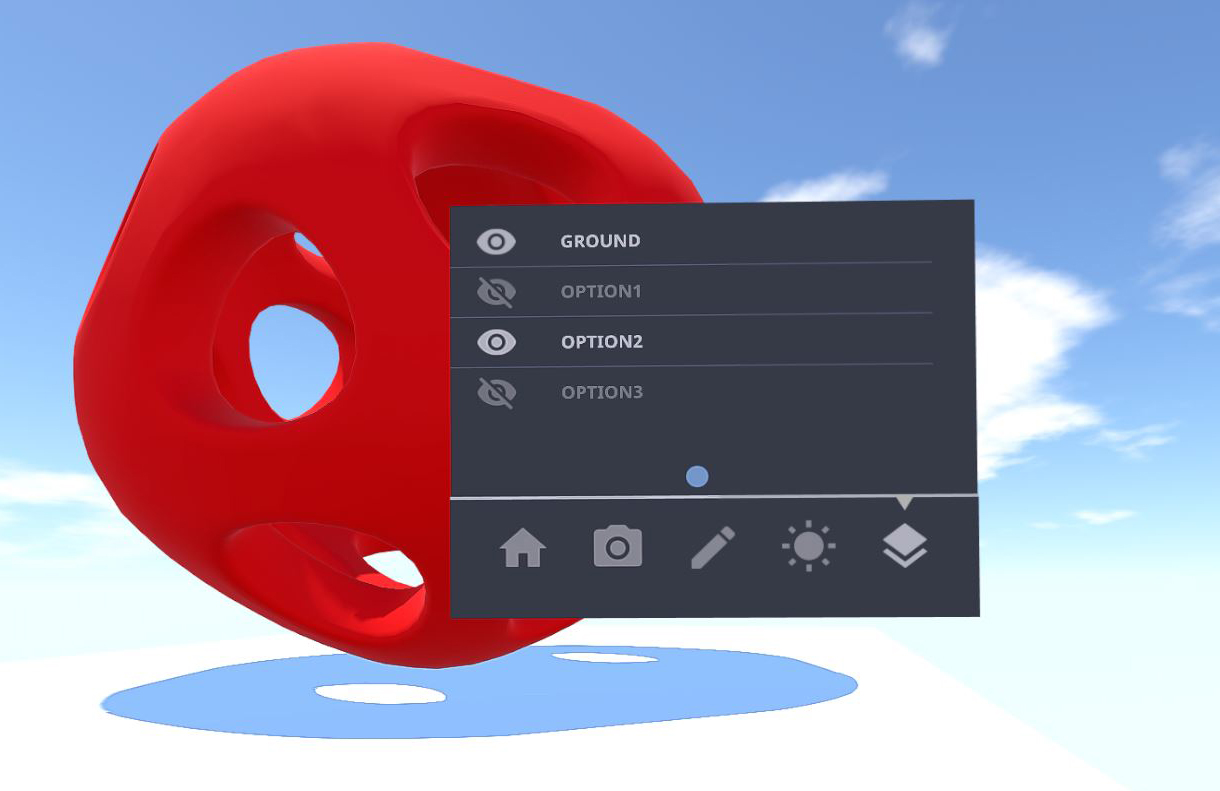 Option 2: setting Option1 layer to off and turning Option2 on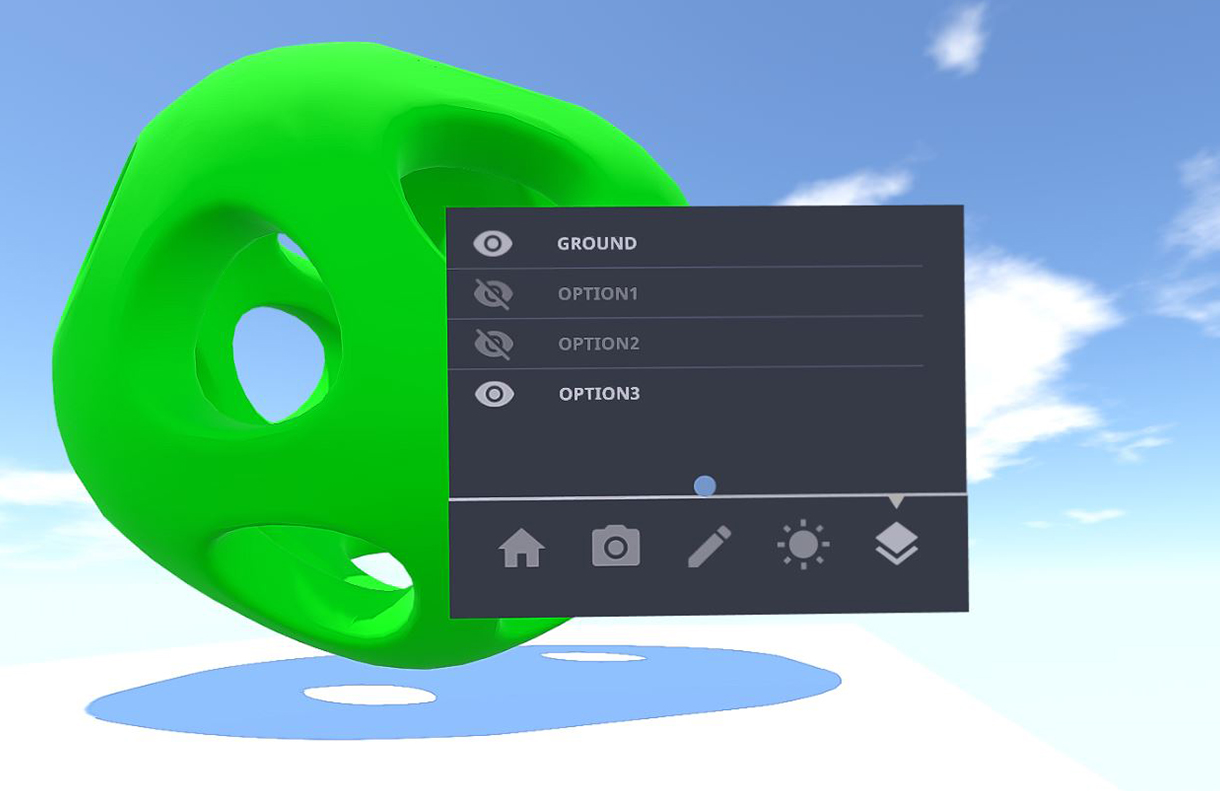 Option 3: setting Option2 layer to off and turning Option3 on
Best practices
While we work through edge cases with various types of models, below are some modeling guidelines that will improve the quality of the virtual reality experience once inside the headset. 
Delete Extraneous Geometry
As you model it's natural for geometry to be pasted and copy around the central* model. For importing into virtual reality it is best to delete any geometry that is not part of the central model.

Removing this geometry will help create a faster more stable virtual reality experience.
Assigning layers materials or colors will improve the quality of the virtual reality experience

Avoid using colors and materials that are white as it becomes very glaring in virtual reality. Instead, go for light grey colors. 
Avoid using colors that are pitch black.
Our software currently reads semi-transparent layers as if they are glass, so that you can teleport through a window or glass door quickly. Avoid making any surface that you do not want to teleport through semi-transparent.
Trim any surfaces under the mesh to avoid overlapping with the mesh that represents the terrain.
Geolocation
Make sure to input a sun location in Rhino, as Prospect uses the information from the Rhino file, which is controlled within the Sun Menu panel. Learn more about geolocation from McNeel's website here.
To learn about additional features, check out this section of our knowledge base. 
*For the purposes of these guidelines, wherever "central" model is used it is referring to the primary or focal portion of the 3D model, where you would like the user to go to in virtual reality or has the design you would like to communicate.