Requirement Review
In general, to run Prospect software you will need the following:
1. Powerful computer* to run a smooth experience and support your virtual reality headset. Check your computer against our recommended specs.
2. Virtual reality headset that is plugged into your computer. Various headset options, here.
3. Prospect software downloaded and installed -- explained here.
4. A 3D file in a supported format.
*Please note that Prospect is a Windows based software and will not run on an Apple computer. To understand more about why Apple computers are not supported, click here. 
Installation
If you have never installed Prospect before on your Windows desktop machine, please go to irisvr.com to download trial and create an account.
If you have a beta version of Prospect installed (ver 0.3.6 - 0.3.8) prior to November 1st 2016, Prospect will auto-update to the newest release.
Any versions prior to 0.3.4 should refer to this article for more information.
1. Download the IrisVR Prospect App
Go to irisvr.com/downloads, sign up, and click "Download Now" under the IrisVR Prospect section.
Once downloaded, double click on IrisVRProspect.exe to begin the installation process.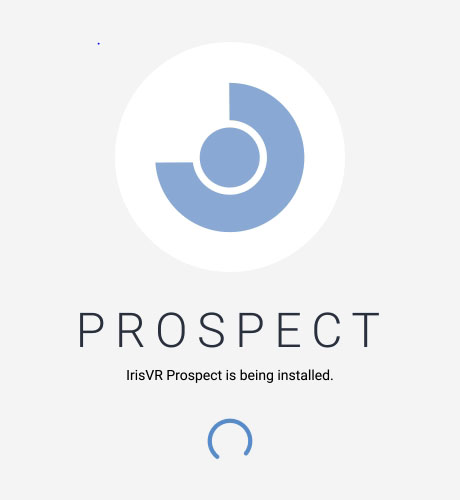 2. Launch the Software
Log in with your username (email) and password.
Begin using Prospect Pro. If you're trying out the software for the first time, you'll see a notice for your 21 day trial. During this time you have complete access to all Prospect Pro features. If you'd like to learn more about Prospect Pro and the Project Library, you can refer to this article.
Please refer to specific software requirements for the file type you're looking to use.