To run Prospect software you will need the following:
A powerful computer to run a smooth experience and support your virtual reality headset. Check your computer against our recommended specs.
Virtual reality headset that is plugged into your computer. Our guide to picking a headset here.
A 3D file in a supported format.
Installation
If you have never installed Prospect before on your Windows desktop machine, please go to irisvr.com to create an account and download the software.
1. Download the IrisVR Prospect App
Go to irisvr.com/downloads, sign up, and click "Download Prospect"
Close any 3D modeling applications (Revit, Rhino, Navisworks, etc.) that may be open on your machine
Once downloaded, double-click on ProspectSetup.exe to begin the installation process.
Select which plugins you'd like to use with Prospect and click Install
2. Launch the Software
Plugin updates
As the plugins for Revit, Rhino, and Navisworks are installed concurrently with Prospect, you will need to re-install Prospect and check off the appropriate software should you upgrade your version. This is not necessary for OBJ, FBX, Sketchup, or IFC files, as they do not utilize a plugin.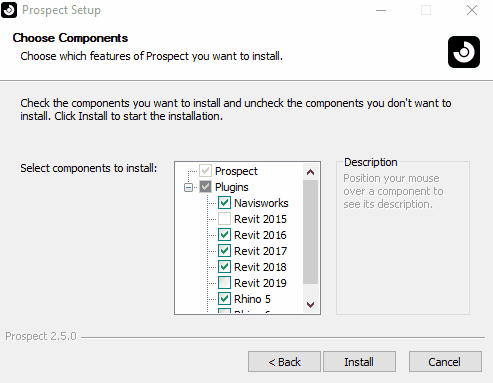 Prospect will not install if any of these applications are running at the time of installation. Please close these applications to complete the installation process.
Notes:
Learn more about using the Prospect Library, Navigation and New Features.
If you are using the Prospect Guest Viewer, please refer to steps in this article.
If you are on a trial, you'll access a full version of the software - this is an Individual User license. Find out the differences, and if a Workstation is right for you.
Prospect currently does not support a silent installation process.
If you're having any trouble with plugins installing, or installation in general - you may need to check for interference, and possibly whitelist our application with certain firewall/antivirus software configurations.