Setup:
For the Oculus Rift S:

You'll also want to make sure that you're not enrolled in the Oculus Public Test Channel. This can be verified by going to Settings > Beta and ensuring that "Public Test Channel" is toggled off.

For the HTC Vive & Vive Pro:
Refer to the official HTC Vive installation guide.
We suggest wall-mounting your HTC Vive base stations for the best experience, although they can also be mounted on a tripod. Any standard tripod will suffice, though we've used this tripod with this tripod head (and optionally this pivot arm) in the past.
HTC Vive Pro requires a top of the line PC, and would only be recommended for use with our highest end hardware specs or better.

Additionally, check to make sure that your computer has the necessary DisplayPort receptacle to connect to the Vive Pro. We have received feedback that the headset may not be detected when an adapter is used to connect the headset to your computer.

Make sure you are opted out of all beta programs in SteamVR, as these unofficial versions can potentially cause issues with Prospect. If you have noticed any issues with performance, such as buttons losing functionality:

Close SteamVR
Navigate to Steam library and right click SteamVR -> properties
Open the betas tab
Make sure you're not in beta
Ensure non-beta is downloaded
Launch SteamVR and verify the version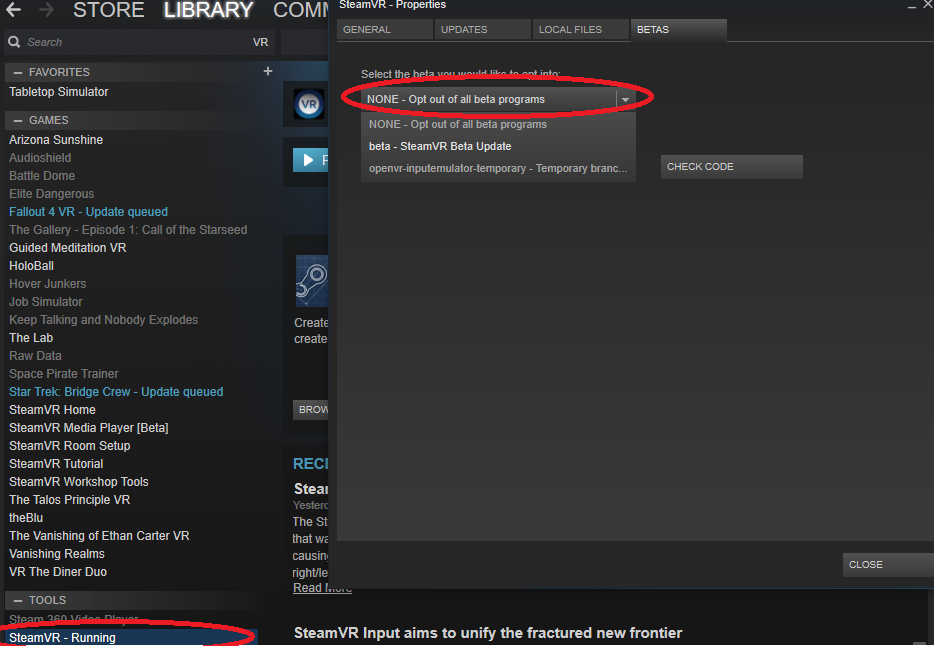 None- Opt out of all beta programs
SteamVR has a setting to automatically adjust resolution based on detected hardware, which can cause unfavorable results. To manually set this at 100%:


Navigate to Settings --> Video
Check Manual Override
Set resolution to 100%
Also verify the box labeled "Enable Motion Smoothing" is unchecked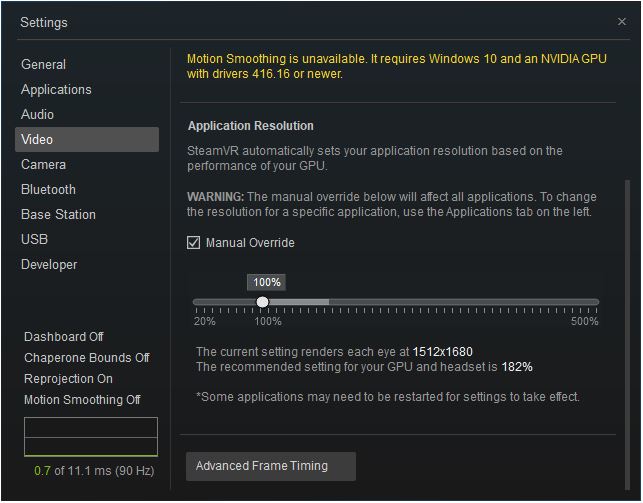 Application Resolution - Manual Override 100%
AMD Graphics Card Users
Some HTC Vive users with AMD graphics cards have reported an issue where only one eye is displayed in the headset when using Prospect. Typically, this issue can be resolved by updating your AMD graphics card drivers. If this does not resolve the problem, you can also try enabling "Direct Mode" which can be found in Settings -> Developer -> [Enable Direct Mode] in SteamVR.