We've all been there. Staring blankly at someone who has their mic on mute or maybe you have no idea how your webcam's mic connects to your call. The world of VR meetings and collaboration is no different.

VR headsets are more robust than ever and with newer headsets coming with built-in mics, many users find themselves at a loss as to how their audio is (or isn't) coming through. Below is a guide for troubleshooting new equipment.
Firstly: Remember your Sound Settings or Controller on your computer's OS.
Finding your sound settings and adjusting them can be done in a few simple steps:
1: The Sound Settings on Windows can be found by right-clicking the speaker symbol at the bottom right-hand corner of your screen. Opening this will give you both input (sound coming to you) and output (sound coming from you) settings.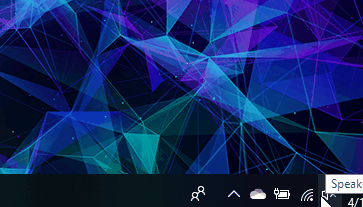 Right clicking the speaker icon on your PC
2: If the headset you have has a microphone built-in, make sure your input device is selected accordingly. If you plan on using another microphone, other than the one on your headset, read the next section.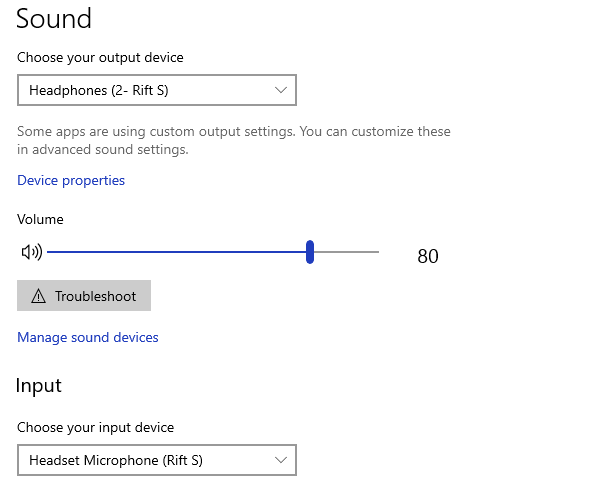 Example of the Sound Settings for Windows

Secondly: Remember your Sound Settings as listed by your headsets proprietary software.
Each headset has software dedicated to controlling their settings, including their mic. From these settings, it is important that the mic you have selected via your computer's sound settings matches the mic you have selected for your headset.
| | |
| --- | --- |
| Example of the correct configuration | Example of an incorrect configuration |

Stand-alone wireless headsets such as the Oculus Quest have microphone settings in the main menu under "Settings". Refer to the user guide of your headset to find where these settings are for you
One thing to check is whether your headset can facilitate an external microphone. Check to see if the headset has a 3.5mm headphone jack. Using one is a great way to check if the microphone on your headset is the culprit of any errors (assuming the external mic you've used is working correctly).
Thirdly: Best Practices to avoid audio issues while in VR Meetings.
Whatever you audio input or configuration, make sure this is selected PRIOR to joining a meeting. Changes made after a meeting begins will not be detected by Prospect.
There will be many mics and speakers going simultaneously, often times with bad results. Make sure to mute any other mics you may have connected to your device. Also make sure if you are using the speakers on your PC to lower the volume to reasonable levels. Your audio may be picked up by your mic and heard by others and bounced for a very unpleasant feedback loop.
Lastly: If all else fails: Remember sometimes it's them, not you.
Also worth noting is whether your mic is working via other software. It's possible you current software simply needs to be reinstalled. Check you devices current drivers via your manufacturers website to see if there have been any updates. For example, audio issues for the Oculus Quest have been reported and resolved through a few recent updates. No need to give up hope!
If you find that none of these settings have enabled you to hear or be heard, try resetting the headset or restarting your PC. A factory reset of your headsets may be required if there is an error. Otherwise please contact your headset manufacturer (after testing other mics on your PC) as the issue may be on the hardware side and it never hurts to check the state of your warranty!