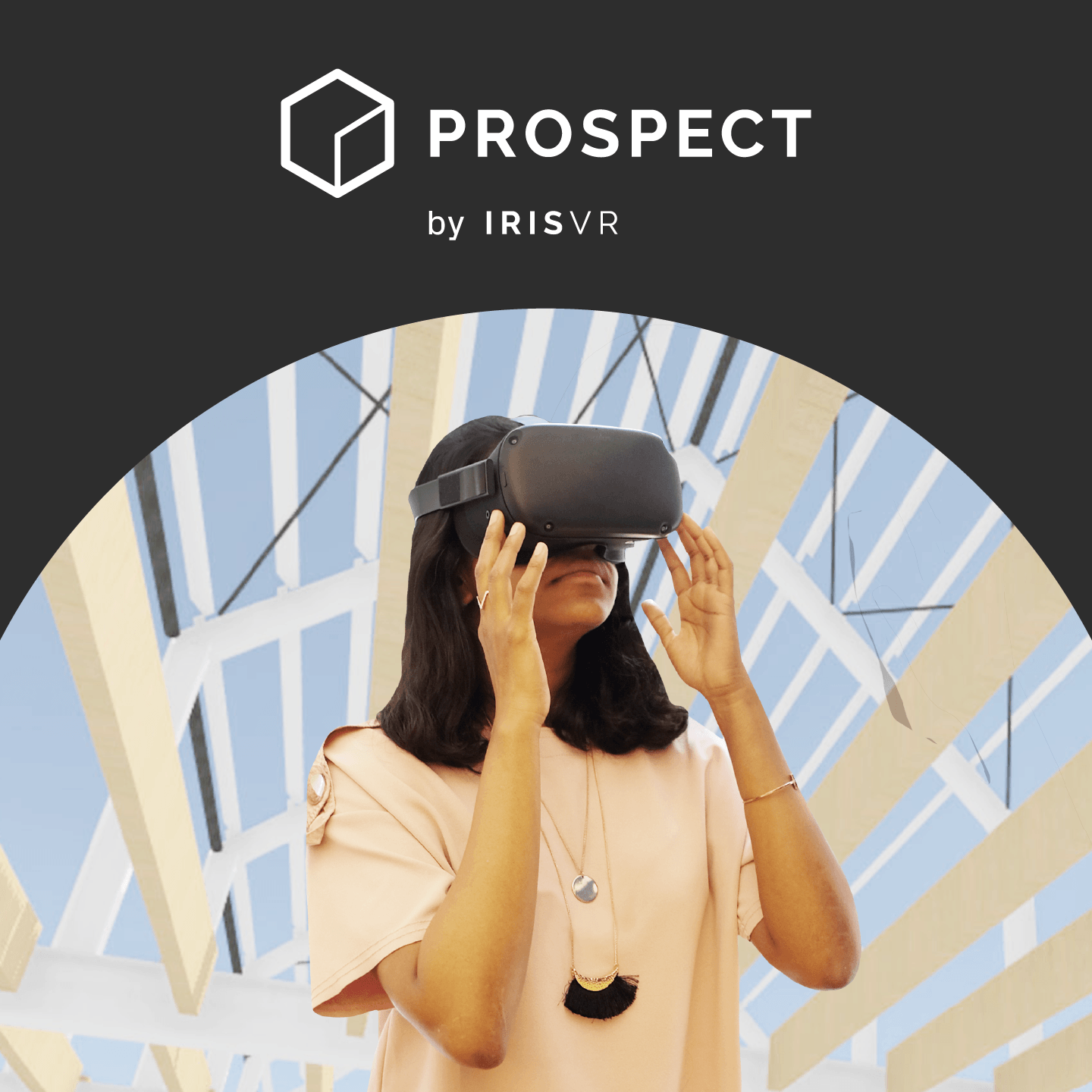 When paired with Prospect, the Oculus Quest is a great way to jump from smaller SketchUp, Revit, Rhino, Navisworks, and FBX/OBJ files into VR. Any large or complex file will need to be optimized to a smaller size for the sake of performance.
If you haven't requested access to Prospect on Quest, please review these steps first.
---
How to get your Prospect Files into Quest
Open the Prospect app on your desktop computer. Next create a new Project then add a few files to it as shown: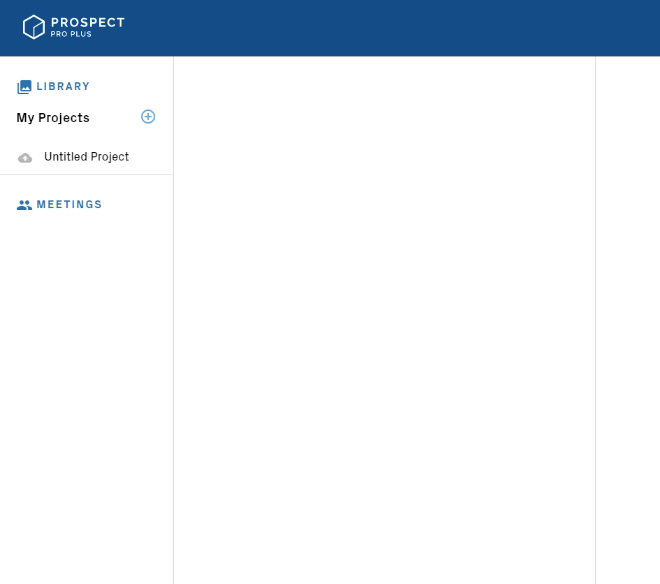 2. Then add a few files to it as shown below. 3D files you intend to use with the quest should be on the smaller side as the Quest processing power is inherently lesser than PC powered VR experiences.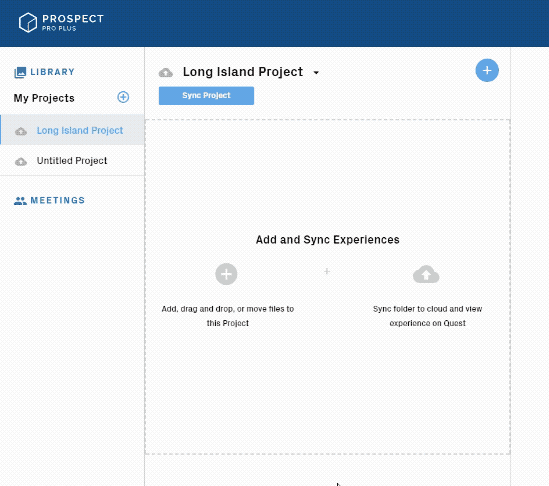 3. Sync the project by clicking the "Sync Project" button.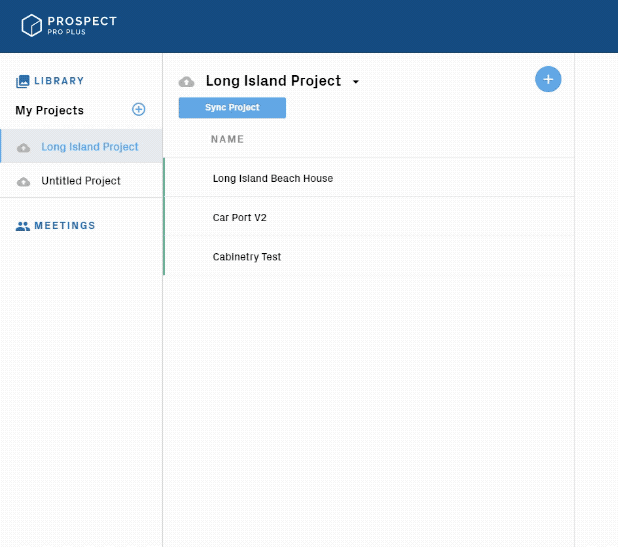 4. Put on your Quest headset and open Prospect on Quest. If you haven't yet installed Prospect, do this by going to Navigate > Search > "Prospect" and continue to follow installation prompts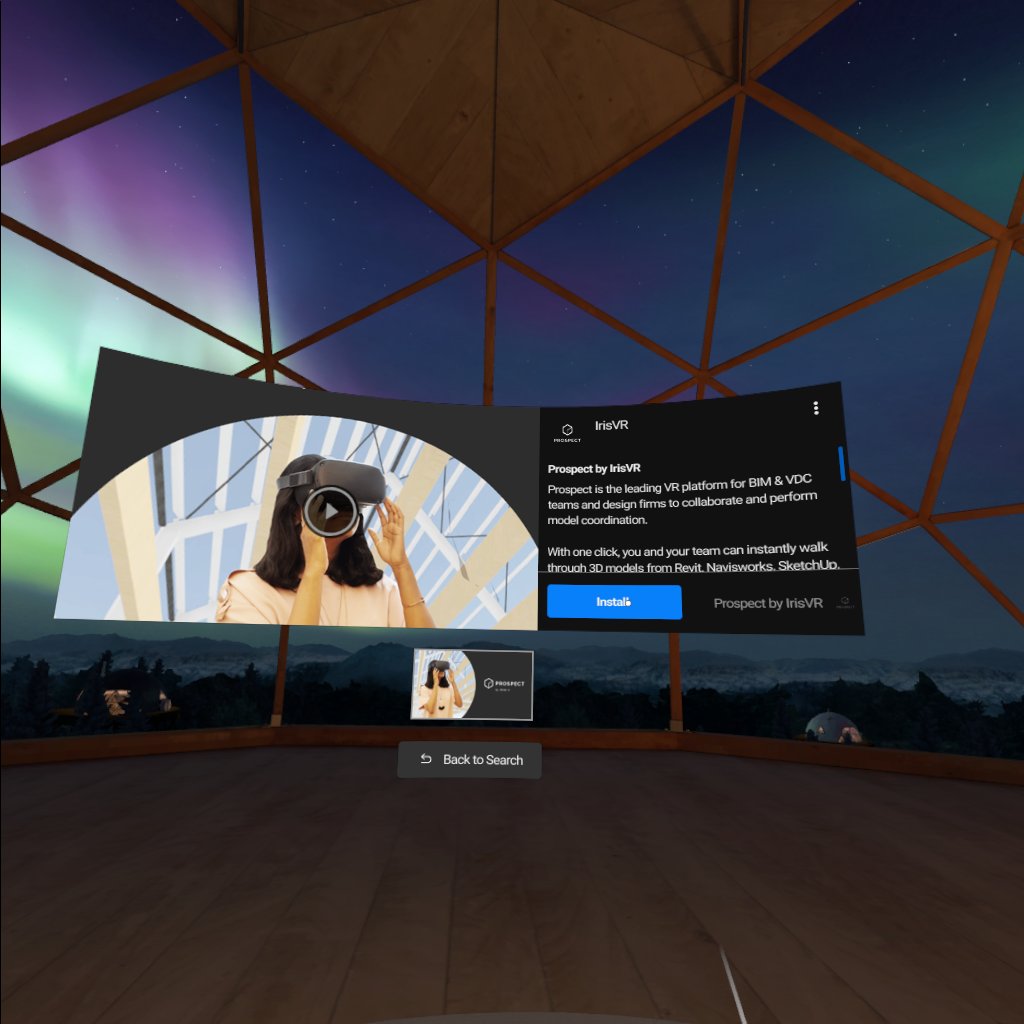 5. After the installation completes, log into Prospect using the same username and password as your IrisVR account. The log in button is on the right-hand panel in-VR on your Quest.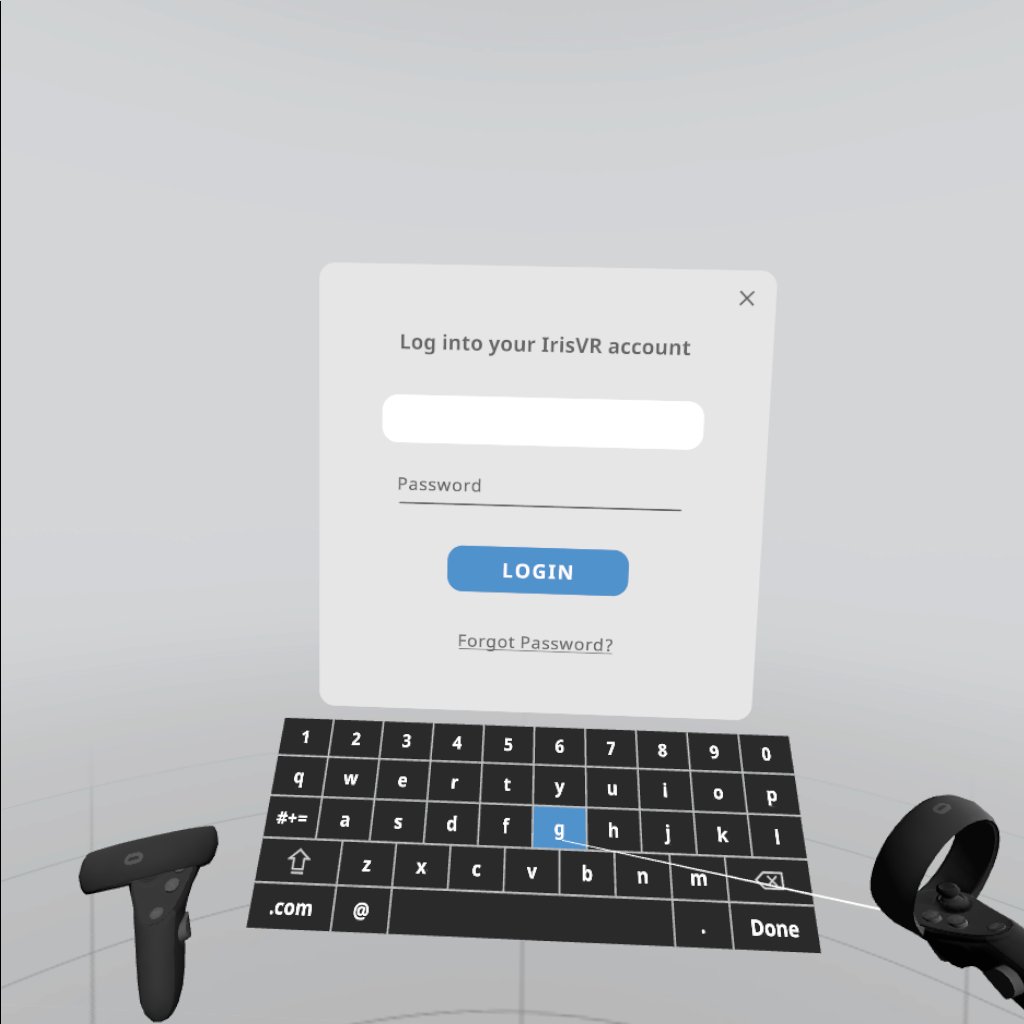 6. Your synced files will appear shortly after logging in. Hover over a file, then click to sync the file into the device. Once it's complete you can launch the file into VR.
---
Best Practices
Performance
Oculus Quest is a standalone device and does not leverage the power of a PC, meaning it has a limited processing power. We can't provide an exact maximum size as this is dependent on the type/complexity of the geometry.
Improve performance by always starting as small as possible and use tools within the native 3D program to reduce the size of the model, such as hiding geometry, using a section box or exporting smaller sections.
If your file is consistently failing while loading or mid-experience, un-sync this file, reduce the complexity of the model by removing high poly items (detailed foliage and entourage elements), or reduce the size of your model using a section box. Then, re-process and sync the simplified version of the file for a fresh launch.
SketchUp users may benefit from replacing high-poly models with some low-poly options from SketchUp official collection on the 3D warehouse.
Free Up Space
We know Quest storage is limited, so we made it easy to free up space on your Quest. Hover over the check mark on any synced file on the quest and click "Remove" to remove it from the device. You can always sync it again later.

Ending a Session
First Exit Viewer - When concluding a VR session on the Quest, make sure you press EXIT while in VR. This will officially end your VR session and allow any updates to sync back.
Syncing files - Make sure your headset remains on/active while files are syncing - this ensures the headset will not time out or pause during syncing. Any screenshots, viewpoints, or other actions saved while in a file on your Oculus Quest will sync back with any other device where you log in. This way, you can use your desktop to download these images.
Security
IrisVR trusts and uses Google Cloud Platform as a cloud provider. All data transfer is encrypted between the PC client and the cloud, and files in the cloud are stored on secure servers, only readable with IrisVR client software.
---
Features Coming Soon!
Meetings - Collaborative experiences coming to Quest!
Reports - Look out for cross-device Reports support!
Outlines & Hard Shadows - Part of our goal is having feature parity to our Desktop application!
360 Panorama Capture