Presenter Controls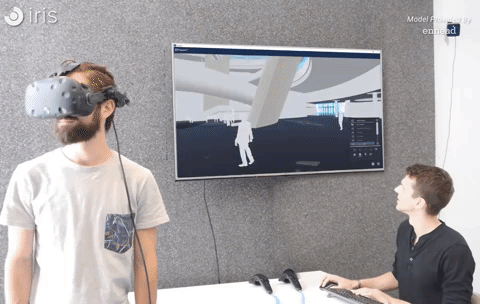 When paired with a tethered headset, presenters can use the Desktop Menu with keyboard and mouse to help guide clients, stakeholders, and colleagues through their projects with Prospect.
Presenter Controls - Desktop Menu
Licensed users have the ability to disable controllers and access a number of the in-VR tools directly from their desktop. Access this feature in the settings menu when a headset is connected
This is particularly handy in situations where you're presenting a project in-VR to someone who may be less tech-savvy or would be more comfortable simply viewing (without being in charge of the controllers for the menu and/or navigating themselves).
You can manage this in your Prospect settings, or using the gear icon near the desktop menu.
From the Prospect Viewer window, the presenter can use the desktop menu and a mouse to control:
Scale model mode (view only)
Keyboard controls listed below may also be used

M - Turn on / off Materials
O - Turn on / off Outlines
G -Turn on / off Ghost Mode to pass through solid geometry
Viewpoints (Scenes)

- Toggle between them by pressing "<" and ">" keys