In Prospect you can navigate through spaces differently based on which headset you are using and the materiality of your model.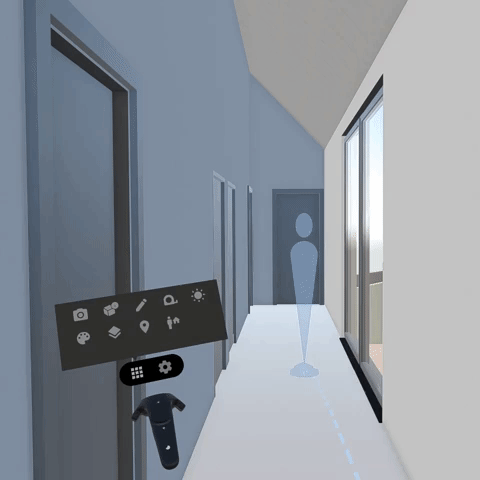 Doors
Automatic Fade:

Doors will automatically fade within Prospect as you approach them. The geometry must be on a layer named "Door" to work.

Ghost Mode: 

Oculus Rift users also have the option to use Ghost Mode , which will allow you to move through all solid geometry.

You can tell when ghost mode is enabled when there is a slight vignette around the periphery of your view. Once activated, you'll be able to navigate through closed doors, walls, and even floors. There are different options depending on which controller you have paired with the Rift,

refer to controls article for keys

.

Inspect Element & Layers:

At any moment you can move through a solid surface by selecting it with the Inspect Element tool and hiding it, or turning off the layer.
Windows & Glass
Prospect reads any surface with transparency as being one you can move through. This will work the same for both HTC Vive and Oculus Rift.
Additionally, Prospect automatically detects glass and styles it to appear more realistic, this can be disabled at anytime via the in-VR menu, Desktop Menu or Library settings shown above under Enhanced Glass.