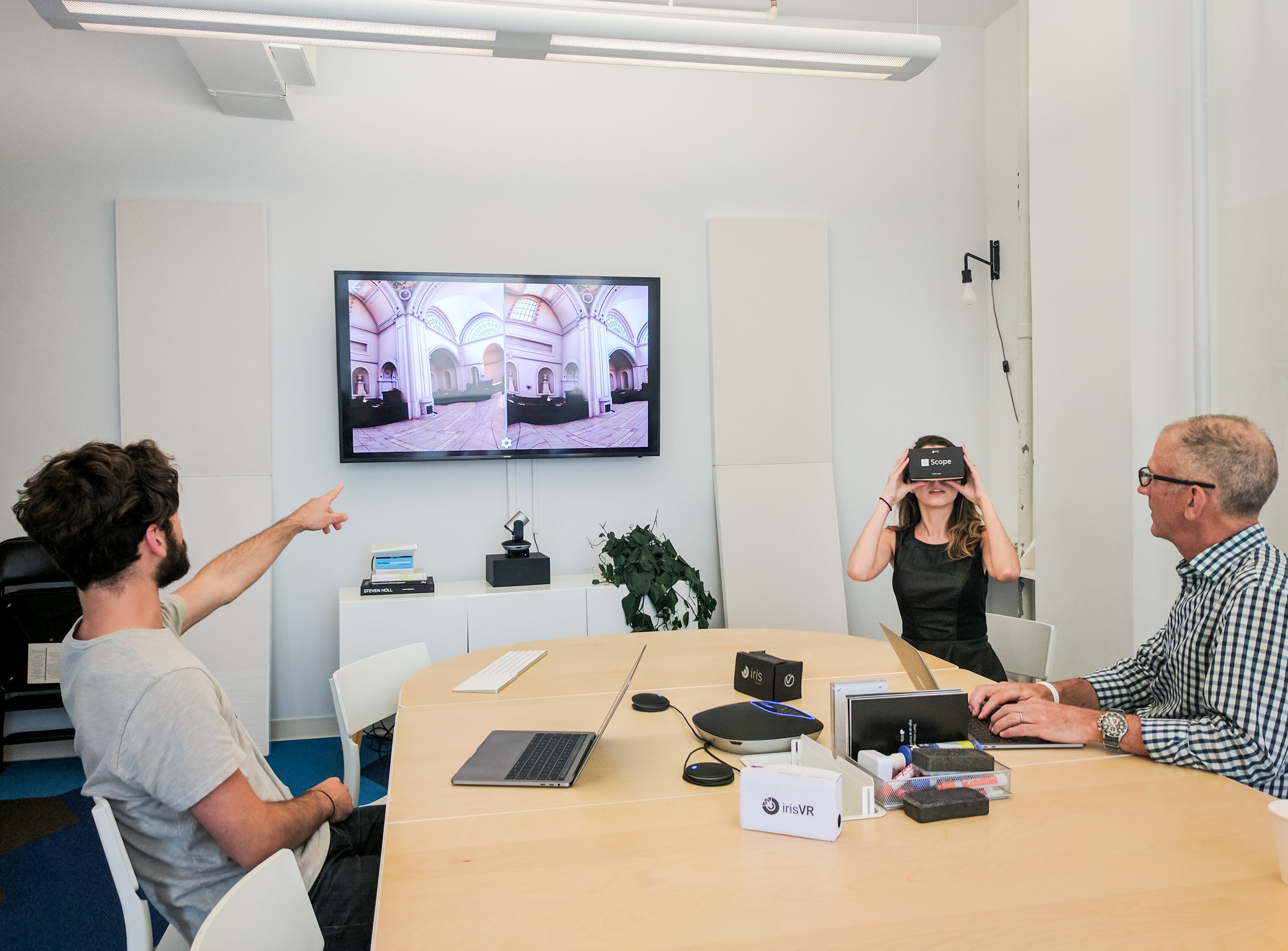 You can easily mirror your Android or iPhone device screen to a Google Chromecast or Apple TV for use in meetings or presentations with IrisVR Scope. Mirroring the user's display allows other meeting participants to view the section of the panorama that the viewer is looking at, and enables discussion around specific elements without the need to continuously pass around any available Scope viewers. 
Screen mirroring on iOS
To mirror your display on the iPhone, follow these steps:
Swipe up from the bottom of the display to bring up Control Center
Click "AirPlay Mirroring" and select the Apple TV that you'd like to mirror your display to
Open a VR experience using Scope, and proceed as usual
Please note that in order to mirror your experience to an Apple TV, you may need to be connected to the same WiFi network. You may experience degraded performance if you don't have a good connection to the network. 
Screen mirroring on Android
You can mirror your screen on an Android device by "casting" it to a Google Chromecast. This process will differ slightly depending on the model of the device that you are using. 
When casting your screen on an Android device, your performance may vary based on the specifications of the device and the quality of your network connection. 
For Nexus and Google Play edition devices running Android KitKat and later
Go to the display settings on your device, and scroll to the "Cast" section. Select the Chromecast you would like to cast your display to. You should see your device screen on the display that you're casting to, and at this point you can proceed to view a panorama in Scope. 
If your device does not have a "Cast" option in your display settings, proceed to follow the instructions below. 
For other Android devices
Download the Google Home app
Open the menu from the left hand side of the screen
Select "Cast screen / audio"
Click "Cast screen / audio" and select the device that you would like to cast to
Launch a Panorama in Scope
Screen mirroring with the Gear VR
Casting your device's screen while using the Gear VR requires a few additional steps. Alternatively, you can switch the viewing mode on your Android device to Google Cardboard, and cast your screen without these additional steps. To cast while using the Gear VR: 
Go to settings, then "Developer options"
In the "Drawing" section, select "Simulate secondary displays"
Select either "480p (secure)", "720p (secure)", or "1080p (secure)". Depending on the specifications of your device, going up to a higher resolution (720p or 1080p) may cause the device to lag, so test this out before heading into a meeting to be sure that your device will perform well 
Enabling this setting will cause a small overlay to appear on your device. This windowed display will not be visible to the person using the Gear VR, but will allow you to cast your screen to a larger display. You can easily disable this window once you've finished casting by going back into the same menu and selecting the "none" option.
Follow the steps in the "Screen mirroring on Android" section above once you have enabled this setting.