Prospect has the ability to sort and organize your Prospect Library based on Projects and files that you create, name, and invite collaborators to for VR meetings and remote collaboration.
Important Notes:
Your files are hosted locally and only sync if the "Sync Project" toggle is on.
Oculus Quest is a mobile device, and as such it does not have the same capabilities/power as PC-Powered VR. It is intended to work with smaller, less complex, files. VR. Read more about these considerations here: Getting started guide

Currently, only Pro and Pro Plus licenses support the Oculus Quest standalone device.

For details on how to collaborate on Quest, review our article about joining collaborative meetings.
Creating a New Project
1. Click the Create Project button above "My Projects" in your desktop library.

2. Enter a project name, select if you want it synced or unsynced and click "Create Project".

3) If the project is synced, you'll be prompted to add Project Level collaborators. These collaborators will automatically gain access to any new files added to a project. (You can always skip this step.)

4)You'll see the project appear in the panel to the left.
Add Files To Projects
You can add new files to Projects in one of two ways depending on the file source:
For SKP, OBJ, FBX, and IVZ files you can drag and drop a file(s) into a Project's center file area or use the "Add FIle"

button to select a file(s) from your file browser.

For Revit, Navisworks, or Rhino files use the

plugins

that install in those programs alongside Prospect. Once the plugin exports the file to Prospect you will be prompted to choose or create a new Project in which to import the file.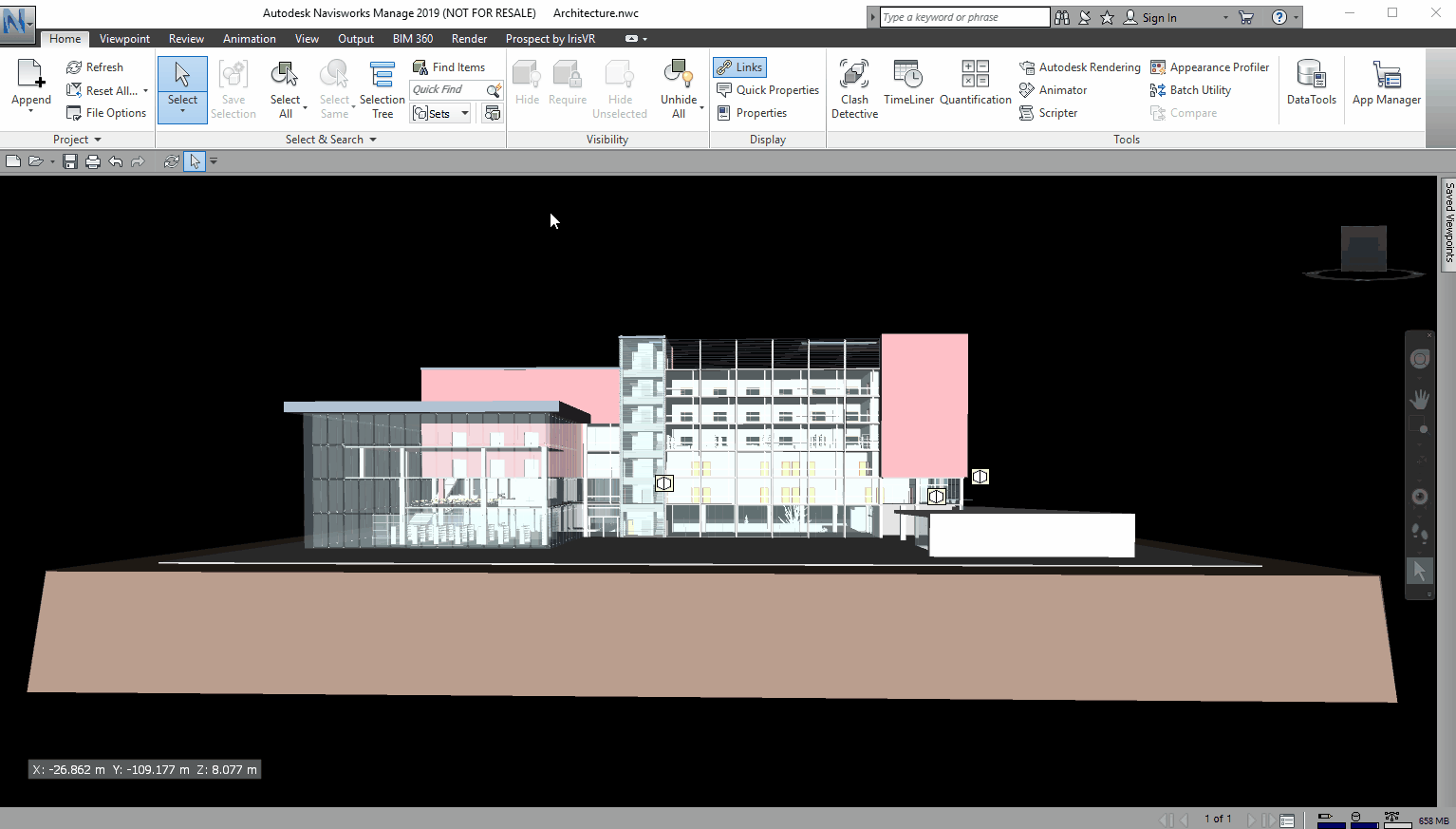 Project Collaborators vs. File Collaborators
Project Collaborators Collaborators added at the project level will automatically gain access to any files added to a project, Project level collaborators will also have the same access and privileges as the project owner, so think of these as true collaborators, and consider this before adding a user to this field.

File Collaborators only have access to the chosen file(s) within a given project. When you select a file, you are able to see and manage the access type of all given users by selecting the Collaborators button in the right panel.
Moving Files Between Projects
| | |
| --- | --- |
| To move files between Projects you can simply drag and drop from one Project to another. For existing users, all previously imported files will appear in the "Unsorted Files" section. | You can drag and drop files between Projects to organize your Prospect Library |
Renaming and Deleting Projects
To rename or delete a Project, first open the Project then click the downward-facing arrow to the right of the Project name.

If you delete a Project that has been "synced" it will delete the Project across all devices.

You will be prompted to type DELETE before deleting an entire project, as there are implications to this process and deletion cannot be undone.

The arrow next to the Project name allows you to rename or delete a Project.
---
Syncing Projects Across Devices and Machines
Synced Projects keep your files up-to-date across various machines and devices. After a Project has been synced it will be accessible from any computer that is logged into Prospect. Additionally, if you're planning to make use of standalone devices like the Oculus Quest, syncing a project will allow you to access those files on your standalone device.

Sync States The Prospect Library has several indicators to show the files sync progress.

Project Folders

A gray folder indicates that the files are stored locally and the project is not synced with other devices or users.

A blue folder indicates that the project is synced with other devices.

A blue folder with the people icon indicates that the project is synced with other devices, and has collaborators.
Selective Download
Beginning with Prospect version 2.9, you can now save disk space, speed sync times, and access only the content you want/need if using your account on multiple machines.

Files uploaded on one PC are now optional to download on another PC, rather than downloading by default.

Additionally, to download and remove multiple files at once, you can perform Batch Actions by using the SHIFT key




Files available for download will appear as a preview in grey text. Downloaded files will show in black text.

Hold the SHIFT key while selecting files to bring up the Batch Action menu.
Syncing and Unsyncing a Project
You can sync/unsync a Project using the "Project Settings" gear icon button just beneath the Project name. Once a Project is synced, it will be available for download on all of your devices and machines.
Unsyncing a Project - If you unsync a Project

it will be removed from any other devices, and stored locally on the computer you performed the unsyncing from. You will no longer be able to access this Project on another computer or standalone headset. Any collaborators previously added to this the project or files will be removed and they will lose access.

Deleting a synced Project - If you delete a synced Project it will be deleted from all devices it has been shared with, as well as the machine you are deleting it from. It will not remain stored locally on the computer, and all associated prospect-create data (markups etc) will also be removed. This action cannot be undone, and you will be asked to type DELETE before being able to delete a synced project.
To ensure that updates to a file sync correctly, make sure you close the Viewer (VR window portion of Prospect) on the desktop (or in the Quest) after you're done viewing a file.