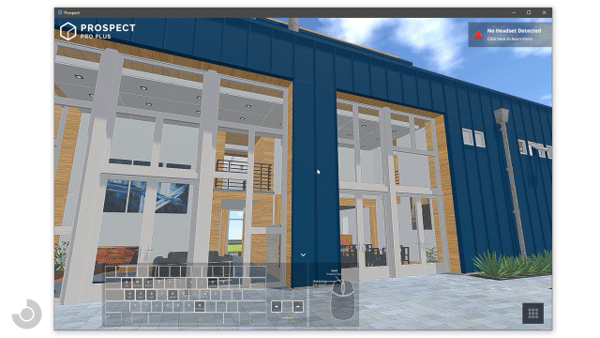 How it works
Whenever you launch Prospect it will check your computer for a headset, if no headset is connected when you launch a file it will open on full-screen directly on your monitor.
When you use Prospect without a headset not all in-VR features will be available to you but you'll be able to move freely within the file. Here's a comparison of features available without a headset, as compared to with one on our Prospect Pro Plus license:
We still recommend that you use a VR headset to view your models with Prospect to take advantage of immersive review, our full feature set and experiencing your pre-built work on a 1:1 scale.
---
Setup & Use Logistics
Hardware
You'll still need a computer that meets some minimum requirements even if not using a headset, the computer must:
Be Windows based
Have a dedicated graphics card
Have speakers & microphone OR ability to connect headphones with a mic (for meetings)
Navigating
You'll have three different options for moving around the file:
Keyboard
Use Q (UP), W (Forward), E (Down), A (Left), S (Back), D (Right) to move yourself around. Plus, turn on Ghost Mode (G) to walk through solid geometry
Mouse
Using your mouse click and drag to look around. Then double click to teleport to a location, and scroll to shift forward and back.
Viewpoints
If the 3D model you are exploring has set viewpoints, you can use those to jump from scene to scene by expanding the menu on the bottom right corner, then clicking viewpoints.
VR Meetings or Collaborating
Prospect collaboration allows up to 12 individuals to be within the same virtual reality environment regardless of their physical location in the world. When you create a make a file collaborative, and she with others they can join the session with or without a headset. As shown above, participants without a headset will have limited capabilities, but will be able to hear and chat with other participants.