Integration Updates

This update adds support for the latest versions of the file types we support, including Revit 2024, and Navisworks 2024.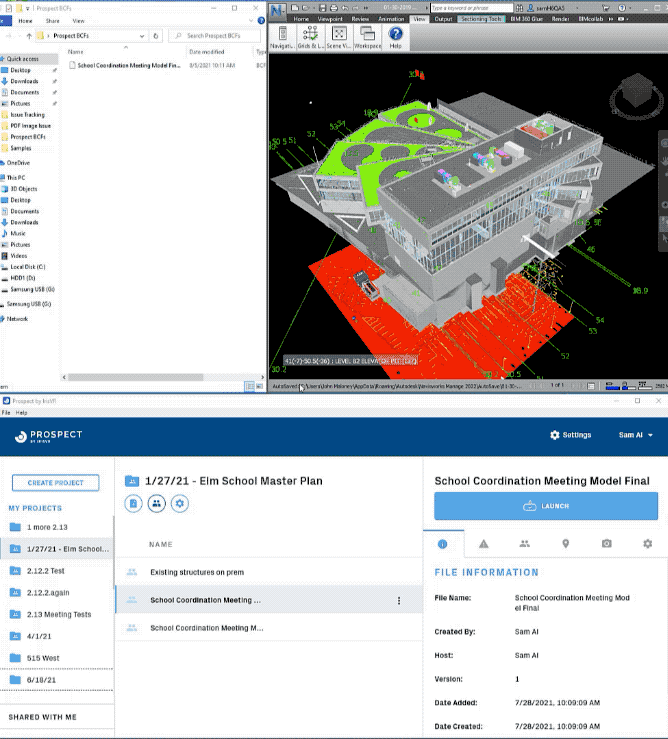 BCF Exports - Issue Tracking
Building upon the workflows unlocked through 2.12 with Issue Tracking, this update 2.13 adds brand new BCF export capabilities. BCF exports offer a unique advantage - in that they allow collaborators to seamlessly roundtrip any action items discovered during immersive design reviews held in Prospect, back into issue management tools and BIM authoring tools for revision and resolution.

BCF file can maintain important data points such as issue description, camera location and direction, to take the issues discovered and documented within Prospect, back to the tools you're already using like BIMcollab Zoom, Revizto, and Trimble Connect.


We've gone under the hood of our IFC import process making a number of improvements that add both stability and processing time improvements.

IFC users will notice these incremental gains with their next import. In testing, we've seen between 5% and 50% faster IFC file processing (and an average around 30%), allowing you to get into your model and design review quicker and easier.
Additional Features...
IFC File Updating -

IFC files now have the option to be updated within Prospect, meaning they can maintain issues, markups even as the project and source file progresses.

Rhino 7 - Enhanced support for the latest version of Rhino 7

UX/UI Improvements - We've fine-tuned the interaction of issue filtering to improve the ease of use, users can now click anywhere on the menu to close a drop down list.

Looking for more? Check out our full release notes.

*Note: Users may need to log out and log back into single-user accounts, or release & re-register their workstation after updating Prospect. This is in order to refresh login tokens, and access synced/collaborative content and project libraries.