Oculus Link and Air Link are both new technologies that enable Quest users to use their headsets, with supported PC computers, as if they were a PC-powered headset. This article details similarities, differences, and if you may be eligible to use either/or.


Oculus Link and Air Link are important and exciting for reasons beyond the fact that Oculus has alluded to the idea that the standalone Quest lineup will fully replace its predecessor, the Rift/Rift-S line of traditionally tethered VR.
Eliminating this line of headsets doesn't mean that Oculus users won't be able to tap into more powerful, expansive, and therefore hardware-intensive PC VR experiences. In fact, quite the opposite is true - and two options are becoming more widely available to users.
With the Quest 2, Oculus Link is officially out of beta, with an ever-expanding list of computer specs that can expect to take advantage of this feature.
---
Oculus Link
Oculus Link is a feature that allows PC-based users to use a single high-quality USB-C cable to tether their Oculus Quest 1 or Quest 2 to their computer. When tethered, the Oculus Quest can leverage the additional power of your computer's GPU to power full-fledged PC-based VR experiences.
What does this mean in the context of Prospect? Well - for those familiar with how to use Prospect on Oculus Quest, the process is a bit faster and more straightforward. When in link-mode, Prospect will detect your tethered headset, and launch into VR on desktop like it would with any other PC-based VR headset. Most supported PCs will also have the capacity to smoothly power significantly larger models, which isn't always possible on a Quest's mobile processor.
To use Prospect in Link-Mode
First, review the

required specs from Oculus

to see if your computer's specs match those from the list of those supported by Oculus Link. The important specs are:

CPU

: Intel i5-4590 / AMD Ryzen 5 1500X or greater

GPU:

NVIDIA GeForce GTX 1060 (6GB) equivalent or greater

RAM:

8GB or greater

Next, ensure you have the

Oculus App

downloaded on your PC

Open the Oculus app on your PC.

Turn on your Quest 2 or Quest

Plug your USB-C cable into a USB 3.0 port on your PC, and then plug the other end into your headset.

A message displays in VR prompting you to

Allow access to data

. Select

Deny

.

When prompted

inside the headset

to

Enable Oculus Link

, select

Enable

to begin remote rendering using Oculus Link.

Launch your desired file in Prospect on your PC

Experience your file in VR on your Quest 2 or Quest
---
Air Link (Experimental BETA Feature)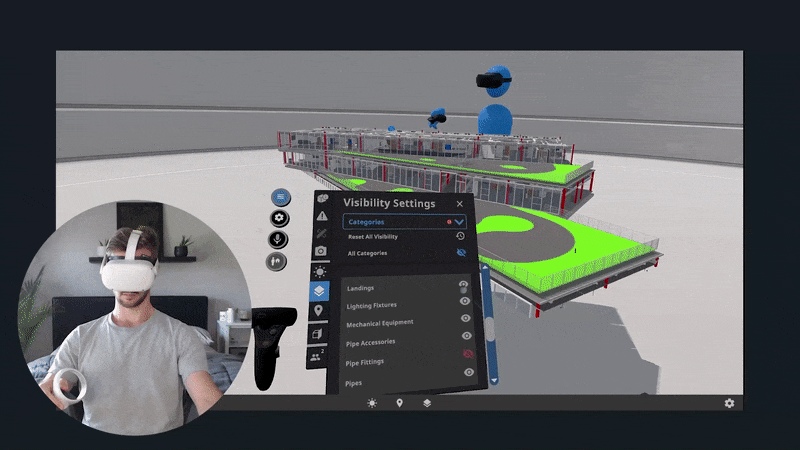 Air Link
is a brand new feature that is available for Quest users to opt into. The update that enables this experimental feature,
the highly anticipated V28
, is also being rolled out in stages to the broader Oculus user base.
According to Oculus, Air Link allows a Quest 2 to be connected to a supported PC via a secure Wi-Fi network. They recommend using WPA-2, as it is typically available and offers the best security. Before getting started, you can check to see if updates are available, or if you're already on the latest V28 required to enable Air Link.
A more complete list of requirements for Air Link:
An Oculus Quest 2

V28 Oculus Quest update installed (on Desktop as well as Oculus Quest 2)

5GHz Wifi Network

"Experimental Features" toggled ON in Settings

A supported GPU

Being within 20 feet of Wifi router*

Have your PC connected to Router/Access Point via Ethernet cable*
To use Prospect with Air Link:
Open the Oculus PC app and select

Settings

.

Select the

Beta

tab. Select the button next to Air Link.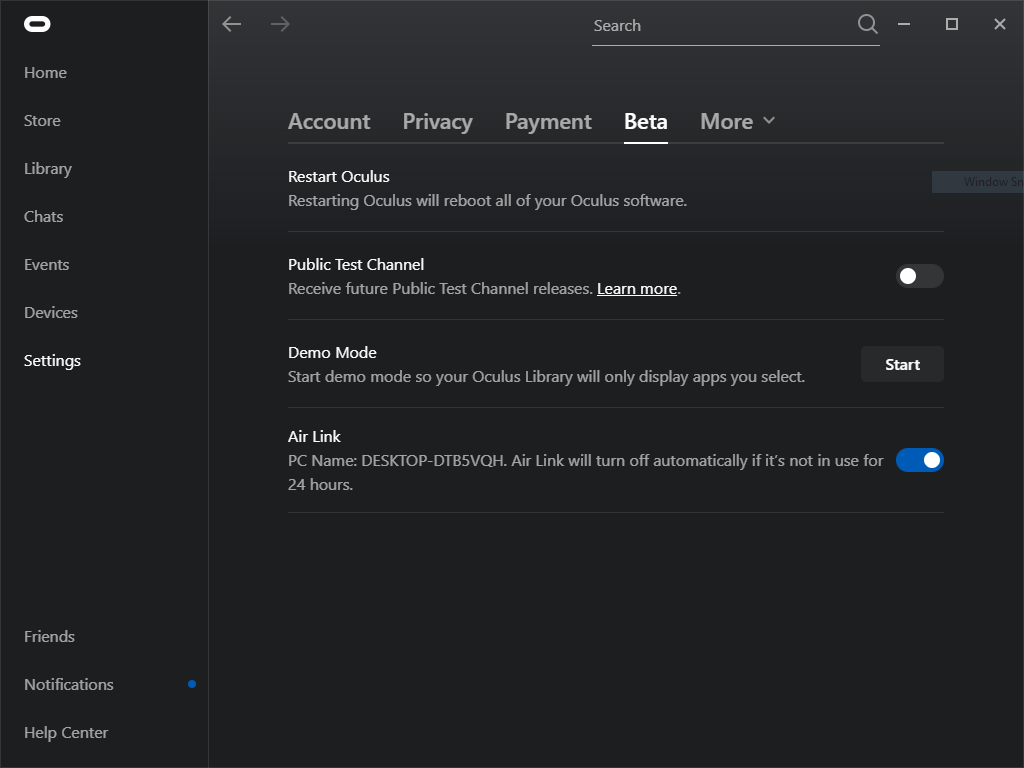 Connect from your headset for the first time:
Put on your Quest 2 headset and press the

Oculus button

to open the universal menu.

Select

Settings

(gear icon), then select

Experimental Features

and toggle Air Link to ON.

Read the Air Link Requirements then select

Continue

.

Find and select your PC in the Available PCs list then select

Pair

.

Once pairing is complete you can now click

Launch

.

Launch your desired file in Prospect on your PC

Wirelessly experience your file in VR on your Quest 2 or Quest.
After you pair for the first time, you can turn on Air Link from your
Quick Actions
menu in
Settings
.
From your Quest 2 headset, press the

Oculus button

to open the universal menu.

Select

Settings

(gear icon)

Select

Experimental Features

, then click next to Air Link to toggle off.
Note that AirLink is an experimental feature from Oculus with
Known Issues
. They have published some resources that detail best practices, known issues, and both some potential gotchas and solutions that may be helpful.
While still in "beta", we're excited for the potential that AirLink provides for the future of high-quality wireless VR experiences. Prospect users can now experience heavier, federated models with complete freedom of mobility.