Our collaboration tools make it easier to join VR meetings across more devices and keep everyone in the loop, regardless of their location.
You'll want to use the collaboration features if:
You want to share a VR File or Project with another person for their viewing

You want to have a VR meeting with multiple individuals at the same time
---
Collaboration Types
In the Prospect desktop library, you can manage File and Project collaborators. Project collaborators have the same access and privileges as the project owner, so consider this before adding a user to this field. File Collaborators only have access to a chosen file within a given project. When you select a file you are able to see the access type of all given users by selecting the Collaborators button in the right panel, there collaborators will be presented as having "Project" and "File" access.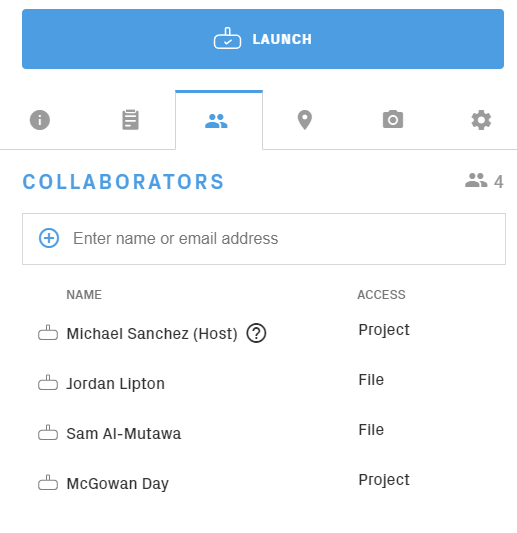 Collaboration Access Types
---
Turn On Collaboration
For Project Collaborators simply select the project to the left panel and select the collaborators button in the center panel. For File Collaborators, select the file within a project you would like manage. Then, in the right-hand panel, select a method for inviting them.
Note: In-VR avatar names for non-guest Meeting participants will be pulled directly from the Personal Settings tab of the Account Management Portal.
Method 1: Invite via Email
For Project Collaborators see the center panel. For File Collaborators open the right-hand panel.
Click on the people icon to open the Collaborators tab.

Use the "Enter name or email address" line to type in an email. Individuals who are in your company's team will appear as a suggested collaborator here.

I

ndividuals added will receive an email inviting them to the project and explaining that they will have the collaborative project appear in their "Shared with Me" tab upon their next launch of Prospect.

That's it! Click launch on any file in the shared project to collaborate.
This method is best for inviting someone who is already in your company's team, is using a Workstation, or has their own Prospect subscription.
Note: to invite a workstation using the email invite method, the workstation user can provide their unique Workstation ID for collaboration, found in the global settings menu (gear icon in The Prospect Library.)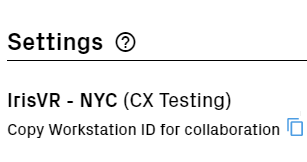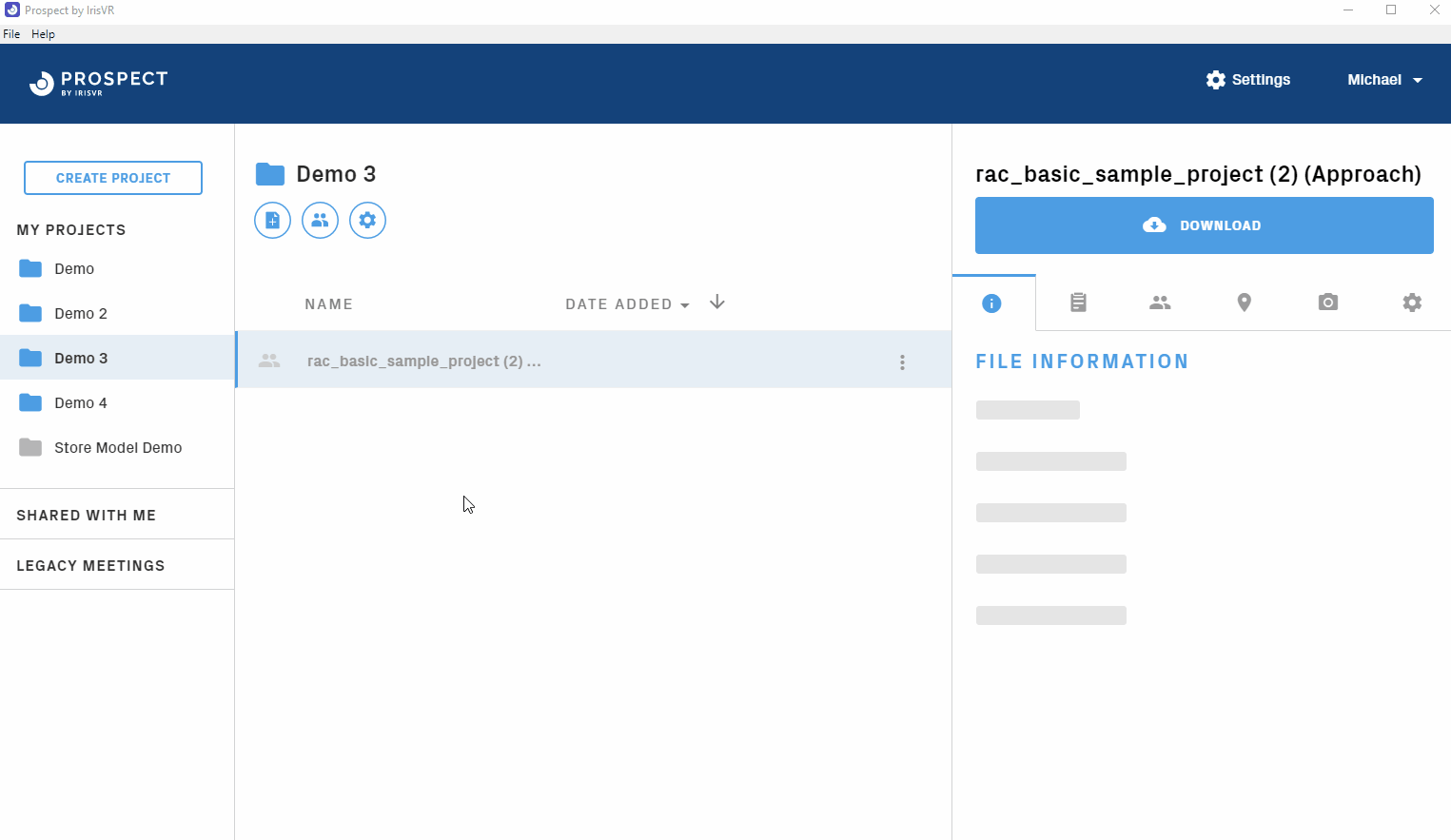 Project Collaborators being added via email invite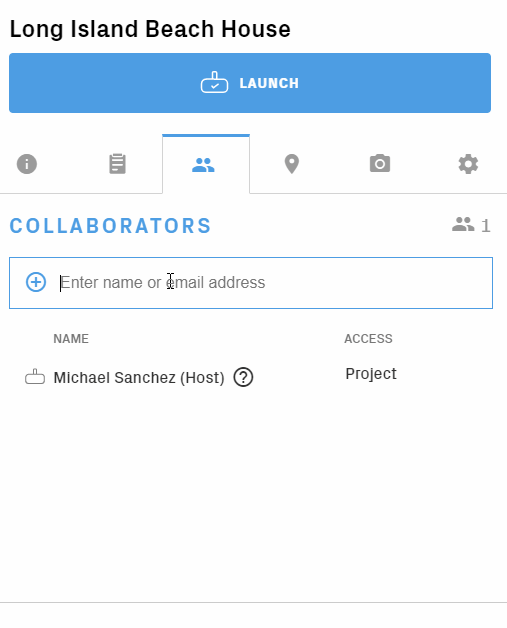 File Collaborators being added via email invite
Method 2: Provide a Join Code
Join codes provide a flexible way to invite collaborators, especially if you are inviting a guest who may not have a Prospect license.
Open the right-hand panel, click on people icon to open Collaborators

Toggle ON public sharing to get a 6 digit alphanumeric join code.

Click to copy and share this code via email, text message, etc

When the user who invited, open Prospect they can add the code to load the file
That's it! Click launch on any file in the shared project to collaborate.
This method is best for someone who doesn't have their own Prospect license, or isn't on your company's team.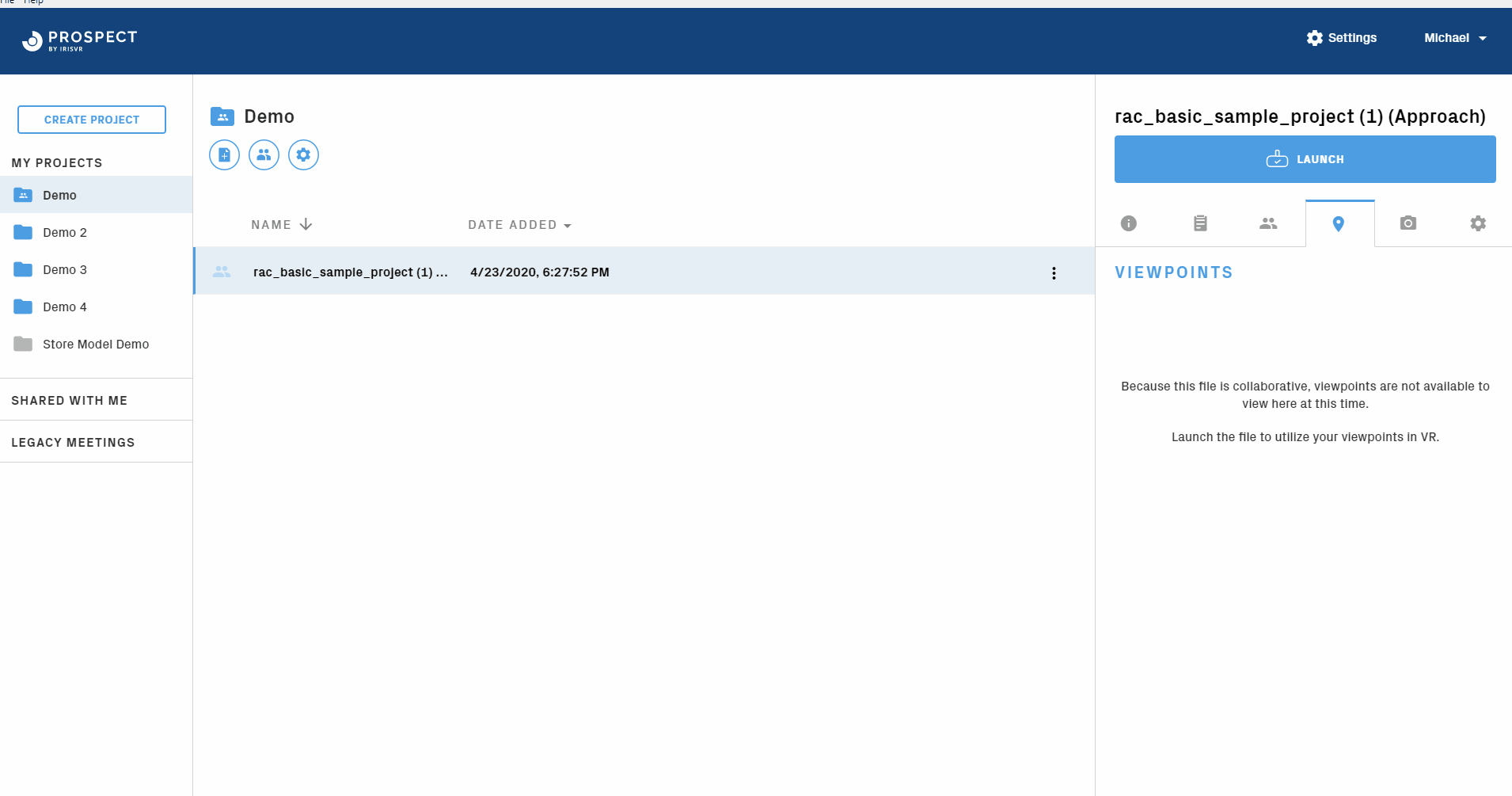 Sharing a file via share code
---
Best Practices for Successful VR Meetings
Hardware Logistics
Connect to a

stable internet

source. Wifi hot spots can work, but are not as reliable. If your company has a firewall, please review our notes

here.
Get the best audio, different headsets have different audio setups.


If using an Oculus Rift, test that your volume is turned up and that you can hear through the headphones, not the computer speakers.
If using an HTC Vive, make sure you have headphones plugged in so you'll be able to hear the other participants. If using the Vive Pro, you'll be able to use the built in headphones.
If using an Oculus Quest, make sure to check your settings to verify that your mic is enabled and your volume is set to the appropriate level.

We don't recommend hosting a meeting without a headset because you'll lose out on the immersive qualities of VR.
Managing the VR Meeting
It's a Shared Environment:

All participants will be able to see all the changes and markups made by other collaborators, including Sun Settings, Display Settings, Layers, Flagged Elements, etc.

Listen, Speak and Collaborate:

Let participants know they can communicate with each other through their headsets. As the Host, you also have

the ability to mute any attendee

within the session and they will receive a notification.

Curate the Meeting:

Determine how you will explore the model by using pre-established Viewpoints. Open the Viewpoints icon on the menu, then select "Bring Others with Me" followed by the desired location. Other attendees will be notified that they are being relocated to a different spot with the model, this is only available to hosts.

Never Lose Focus:

At any moment during the a meeting, you can open the Participants tab on your menu and use either function below.


As the host "Gather" all participants to your location
As a participant "Go To" will you to the location of that user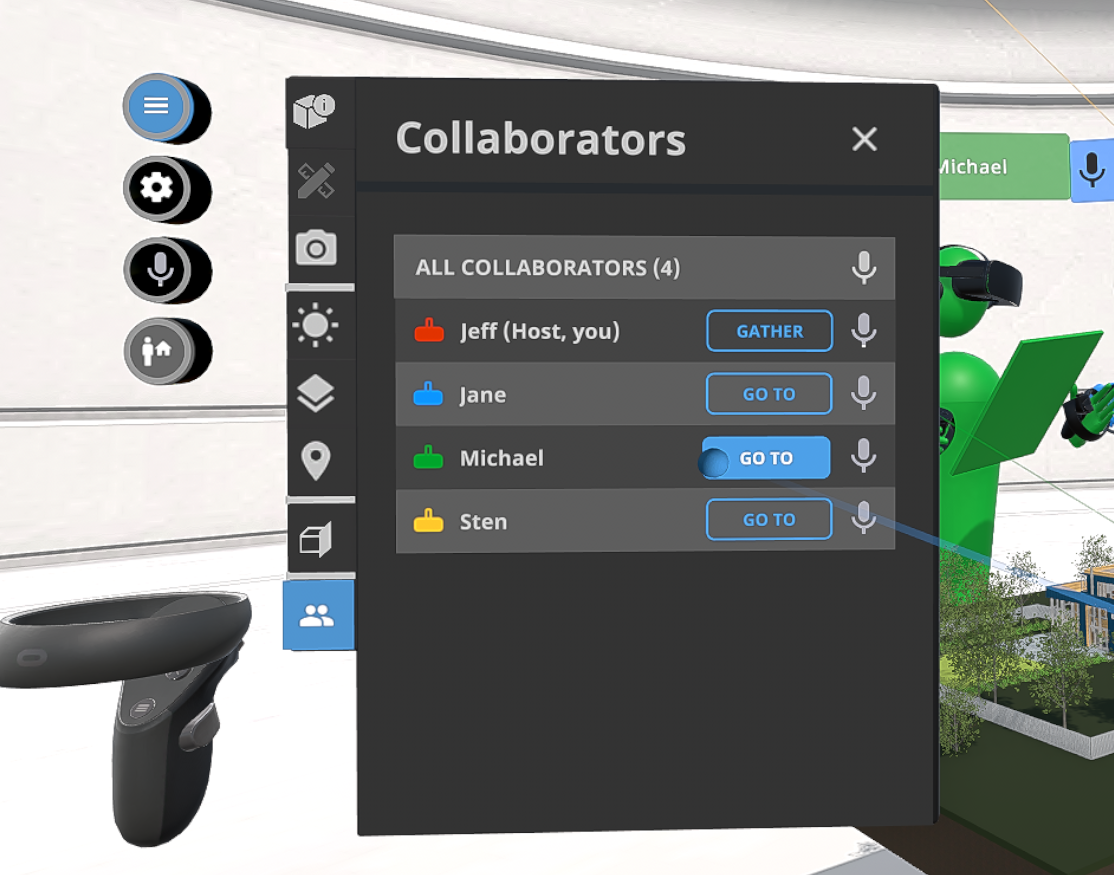 Menu for Gathering and Going To Others
VR Meeting Deliverables
As a Host, anytime that you flag an element while in VR you'll have the option to add it to an ongoing report that is saved within the Prospect Desktop Library. Then at the end of the Meeting you'll be able to distribute this with other attendees by exporting the PDF, learn more.
---
Removing Collaborators
If you decide to remove collaborators from your project, you'll need to take different steps depending on how you invited them.
To revoke email invites

hover over the users email and click remove for File Collaborators. Select "Manage Access" on Project Collaborators to remove any desired users.

To revoke join code invites

toggle OFF public sharing, this will invalidate the code and prevent anyone from joining in the future.