If you encounter an error while using Prospect, please submit the issue, file, and any additional information via the error reporting feature built into Prospect.
Report the Issue
1. Navigate to the drop-down list associated with your username in the Prospect Desktop window, and click "Report Issue"

2. Complete the information requested in the pop-up window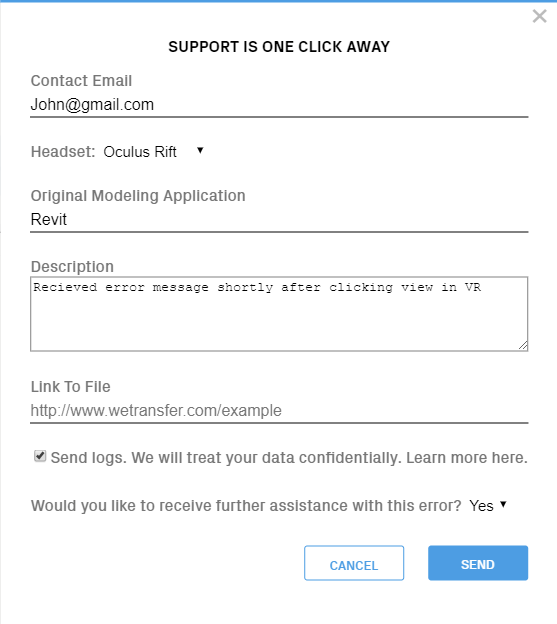 3. Share your file via a file service, like WeTransfer, and then paste that link into the form.
4. Check "Send logs" to send us the information for troubleshooting.
5. Select "Yes" in the "Receive Further Assistance" section if you would like a response from our team.
6. Include a brief description of the issue with all other relevant information.
7. Click "SEND".
Note: Taking a look at the file directly, along with the error logs and the description provided is the best way we will be able to provide assistance. We will treat your data confidentially. Learn more here.
---
While we work on a solution...
Here are some quick troubleshooting tips that might resolve your issue:
Verify the following VR settings are up to date and properly calibrated.
Verify that your computer is using the latest drivers, we recommend using Nvidia Geforce Experience to help manage updates.
Make sure Windows is up to date.
Verify that your computer meets the minimum requirements for running Prospect
If you're utilizing a VR capable laptop, make sure it is plugged in and connected to a wall outlet.
Restart your computer.