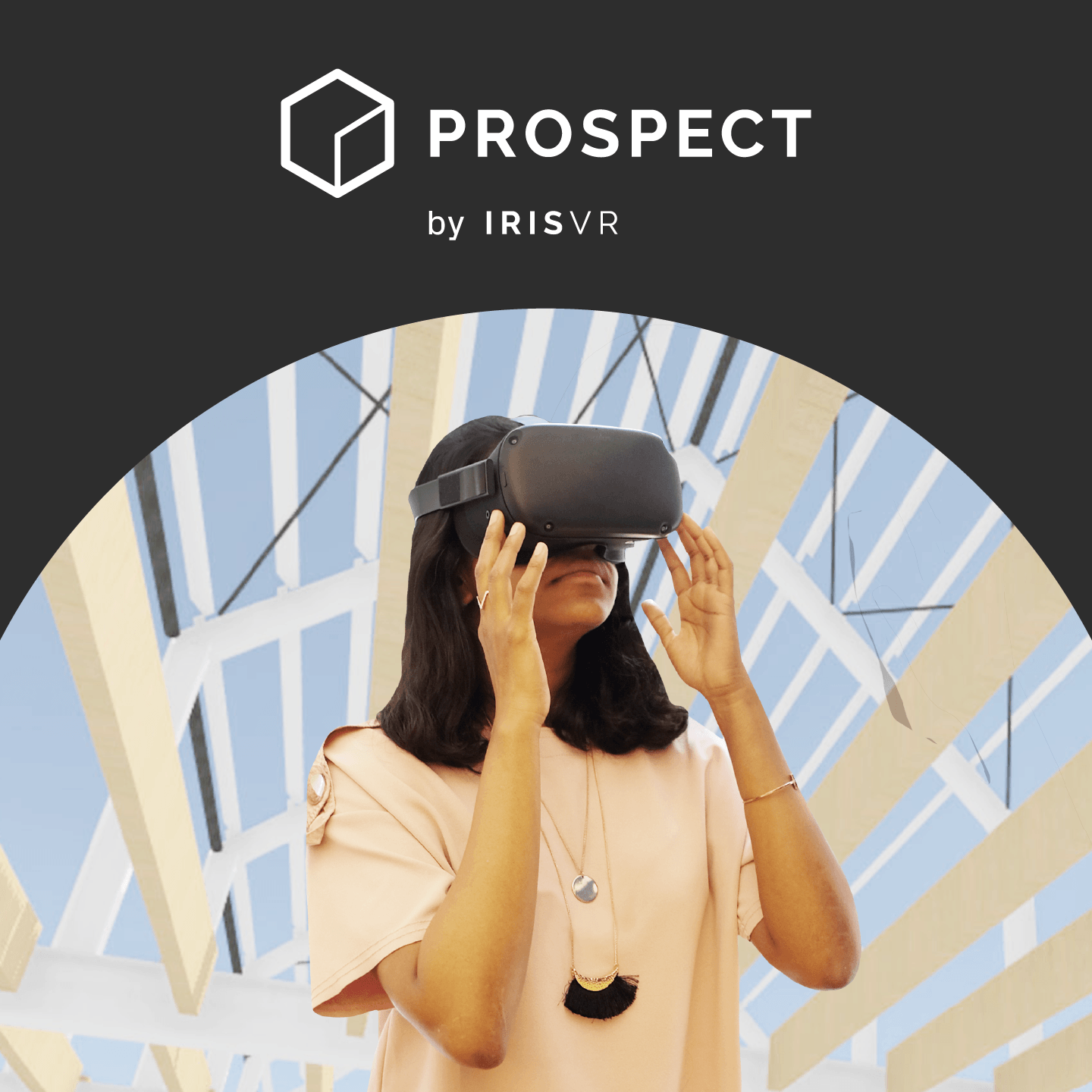 About Oculus Quest for Prospect:

Oculus Quest is an easy to use, wireless, portable, VR headset. It's an ideal complement to an HTC Vive, Oculus Rift, or Windows MR headsets, which can power VR experiences for larger, more complex files.
When paired with Prospect, the Oculus Quest is a great way to jump from smaller SketchUp, Revit, Rhino, Navisworks, and FBX/OBJ files into VR. Any large or complex file will need to be the section boxed or simplified in order to run well on the quest.
While we don't have an exact maximum file size to recommend, as it's largely dependent on the type and complexity of the geometry within a given file, we would recommend starting small, with the option of then testing with progressively larger files to find the sweet spot for your type of work.
First thing's first:
If you've ended up at this article and haven't yet been in touch with someone from our team - let's start there. Please send support@irisvr.com an email with your name, along with the email associated with your Oculus account (not your username) so we can get you access to Prospect for Oculus Quest - this is step one.
From there, someone on our CX team will be in touch within 48 hours with the next steps to get you up and running.
FAQ
What are the limitations of the Oculus Quest in terms of the files it can load?
There is no way around it, the Quest is much less powerful and therefore will perform less-well in models with high triangle counts than your average VR-ready desktop machine. Because of this, we recommend keeping models that you intend to launch on Quest on the small side. Using section boxes in Navisworks and Revit to bring in a section of a model is a great way to achieve this.

How can I access my screenshots and viewpoints that I make on the Quest?
Any screenshots, viewpoints, or other actions saved while in a file on your Oculus Quest will sync back with any other device where you log in. This way, you can use your desktop to download these images.
How do I free up space on my Quest?
We know Quest storage is limited, so we made it easy to free up space on your Quest. Hover over the check mark on any synced file on the quest and click "Remove" to remove it from the device. You can always Sync it again later.
Do you offer Prospect for Mac?
Our software is currently PC only, as the majority of VR hardware and 3D modeling software we support is also PC only. Read more here.
How do I know my web hosted files are secure?
IrisVR trusts and uses Google Cloud Platform as a cloud provider. All data transfer is encrypted between the PC client and the cloud, and files in the cloud are stored on secure servers, only readable with IrisVR client software.
Important to Note:
Files & File Management:
Access: Currently, only Pro and Pro Plus licenses support the Oculus Quest standalone device.
Performance: Because the Oculus Quest is a standalone device and does not leverage the power of a PC, it inherently has more limited processing power when compared to PC-Powered VR. Because of this, there are a handful of differences between the Prospect experience on Desktop vs. the Oculus Quest.
Large files may struggle - We'll continue to improve Prospect's performance on Quest, but the hardware itself will always be less powerful than desktop VR solutions. If you're working with files with large amounts of geometry and you're using Quest, we recommend exporting small section box views to Prospect, and/or hiding excess/complex geometry.
Tip: If your file is consistently failing while loading or mid-experience, un-sync this file, reduce the complexity of the model by removing high poly items (detailed foliage and entourage elements), or reduce the size of your model using a section box. Then, re-process and sync the simplified version of the file for a fresh launch.
SketchUp users may benefit from replacing high-poly models with some low-poly options from SketchUp official collection on the 3D warehouse.
When Concluding your VR Session:
Exit Viewer - When concluding a VR session on the Quest, make sure you press EXIT while in VR. This will officially end your VR session and allow any updates to sync back - please be sure to leave the headset active as indicated below.
Syncing files - Make sure your headset remains on/active while files are syncing - this ensures the headset will not time out or pause during syncing.
Features:
Not yet supported on Prospect for Quest:
Meetings - Look out for collaborative experiences coming to Quest along with other improvements to our Meetings system in the coming months.
Reports - We still have some work to do to make Reports Quest compatible - look out for cross-device Reports support in the coming months.
Outlines & Hard Shadows - We're working on some optimizations for these features and hope to roll out closer feature parity to our Desktop application down the line.
360 Panorama Capture - We'll be working to provide 360 panorama capture on the quest as soon as possible.