.IVZ and .IVM files are our own VR-ready file format specifically designed for Prospect and help simplify immersive review workflows; both file formats can be opened in the Prospect Library and Viewer app.
.IVZ files are used for saving and sharing experiences between workstations or when sending a file to another individual. 
.IVM files are used for Meetings. The .IVM includes all the meeting information needed to invite a guest into a VR session with you.
Benefits of using these formats:
With .IVZ or .IVM files, your VR Workstation does not need licenses for authoring tools. You can export and prepare those models and use services like Dropbox, Box, or Google Drive to share the .IVZ models with your VR Workstation. 
Anyone can participate in your VR Meeting by importing the .IVM you've sent them into the free Viewer app. No need for them to have a license, authoring software or even a headset, but make sure to review our notes before!
---
EXPORTING STEPS
Export a .IVZ File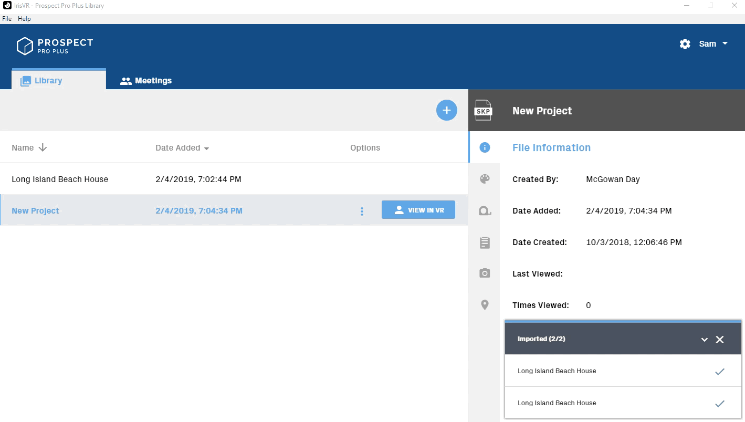 Select Options and then "Export IVZ"

Choose folder, name the file, and hit Save

.IVZ export in progress
Export ready! You can now click "Open File Location" to view the file in its containing folder and share it with others. 
Export a .IVM File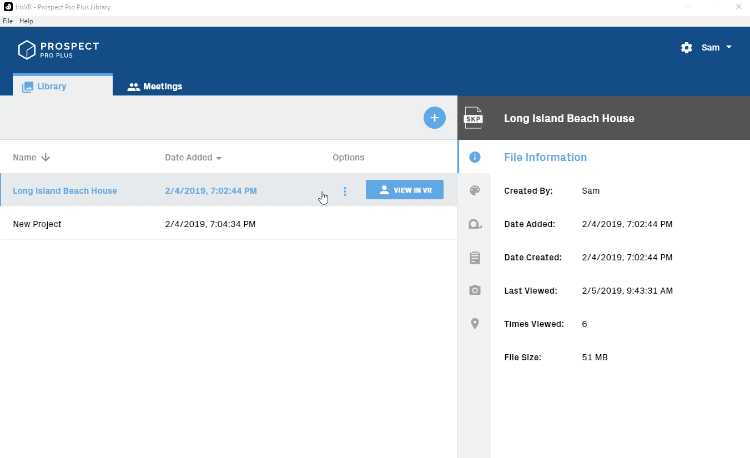 Use .IVM files, to share experiences with other VR-ready teams throughout your office.
In the Library tab, select Options next to the intended project, then "Create Meeting From File" 
Choose a name for the meeting, then click "Create" and "Export .IVM" 
Designate a folder that the .IVM will be saved to
Share the .IVM Meeting file with your Meeting participants, along with the instructions for joining the meeting. You can have your participants download the free Viewer app if they are not already Prospect users. 
NOTE: With files above a certain size you may experience an error when exporting, .IVZs or .IVMs. In order to proceed further, you will need to reduce the size of your model. Feel free to report the issue to us so that we may help troubleshoot. 
---
IMPORTING STEPS
Importing .IVZ Files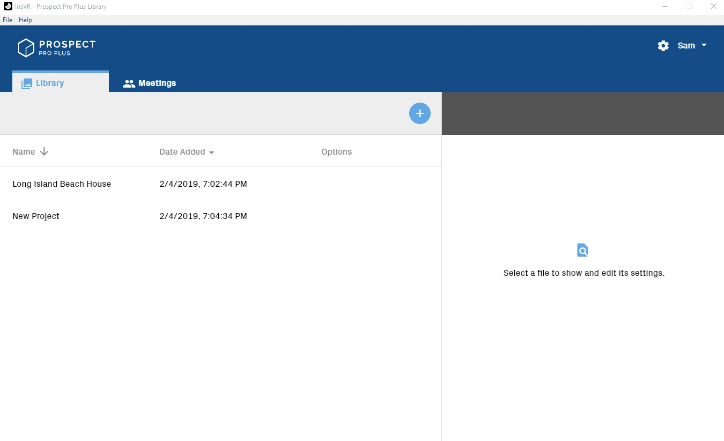 Select .IVZ File that was shared with you and either drag into Prospect or double click on it
The file will automatically import, and you will see it in your library
Click "View in VR" to launch the file
Importing .IVM files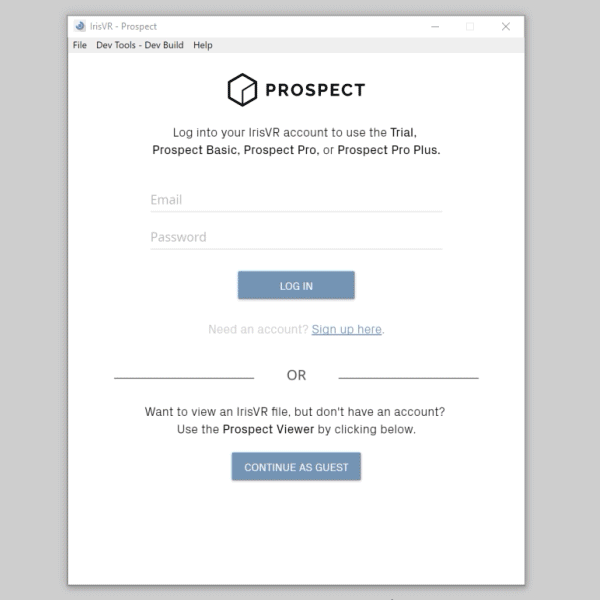 Select .IVM File and drag into the Library or Viewer (depending on your subscription tier) or double click on it
The file will automatically import, and you will see it in your library
Click "Meet in VR" to launch the file. Read more about Multiuser Meetings here.