In Prospect you can navigate through spaces differently based on which headset you are using and the materiality of your model.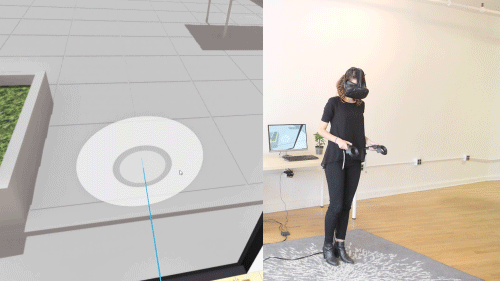 Doors
Moving through solid doors with the Oculus Rift:
Ghost Mode is a feature available to Rift users. You can tell when ghost mode is enabled when there is a slight vignette around the periphery of your view. Once activated, you'll be able to navigate through closed doors, walls, and even floors. There are different options depending on which controller you have paired with the Rift, refer to controls article for keys. We suggest you turn off Ghost mode right after you've gone through the geometry you need to so you don't find yourself in between a floor or at a wrong height.
Moving through solid doors with the HTC Vive:
The HTC Vive does not have Ghost Mode enabled. Instead, to move through solid doors, you can simply stick your hand with the controller through the door. Once your hand/controller is past the door with the controller, you can press the back trigger on that control to be teleported to that space. Alternatively, you can use the model's layer to turn on/off the door.
Windows
Windows that are modeled with transparency and/or as glass with allow you to teleport directly to them simply by pointing the cursor at them. This will work the same for both HTC Vive and Oculus Rift
Transparent Surfaces
Our software reads any surface with transparency as being one you can move through.