Using the latest graphics card drivers is critical for making sure you can attain the greatest performance while in VR with Prospect, as well as other software that relies on your graphics card. Often, re-installs of Windows, hardware changes, or certain (and often inadvertent) preference changes will cause your graphics card driver to fall out of date. Luckily, it's fairly easy to locate the latest graphics card driver for your specific system. 
In Prospect, the most common issue that may occur if your graphics card isn't running the latest driver is a black screen upon launch. Rather than seeing your model load after the Prospect viewer window launches, you may either see the loading screen continue to flash persistently, or the window may simply go to black. You will also not be able to see your model in your Oculus Rift or HTC Vive headset. 
Updating your NVIDIA graphics card drivers
NVIDIA's "GeForce Experience" software will automatically detect your graphics card model and update your drivers to the latest stable version. You can download the GeForce Experience from NVIDIA's website here. 
Upon installing, you'll be prompted to log into the software using an existing NVIDIA account or a supported third party account. After logging in or creating an account, navigate to the "Drivers" tab on the top navigation, and click "Check For Updates" on the top right corner. 
If any updates are available for your graphics card, you'll be prompted to install them.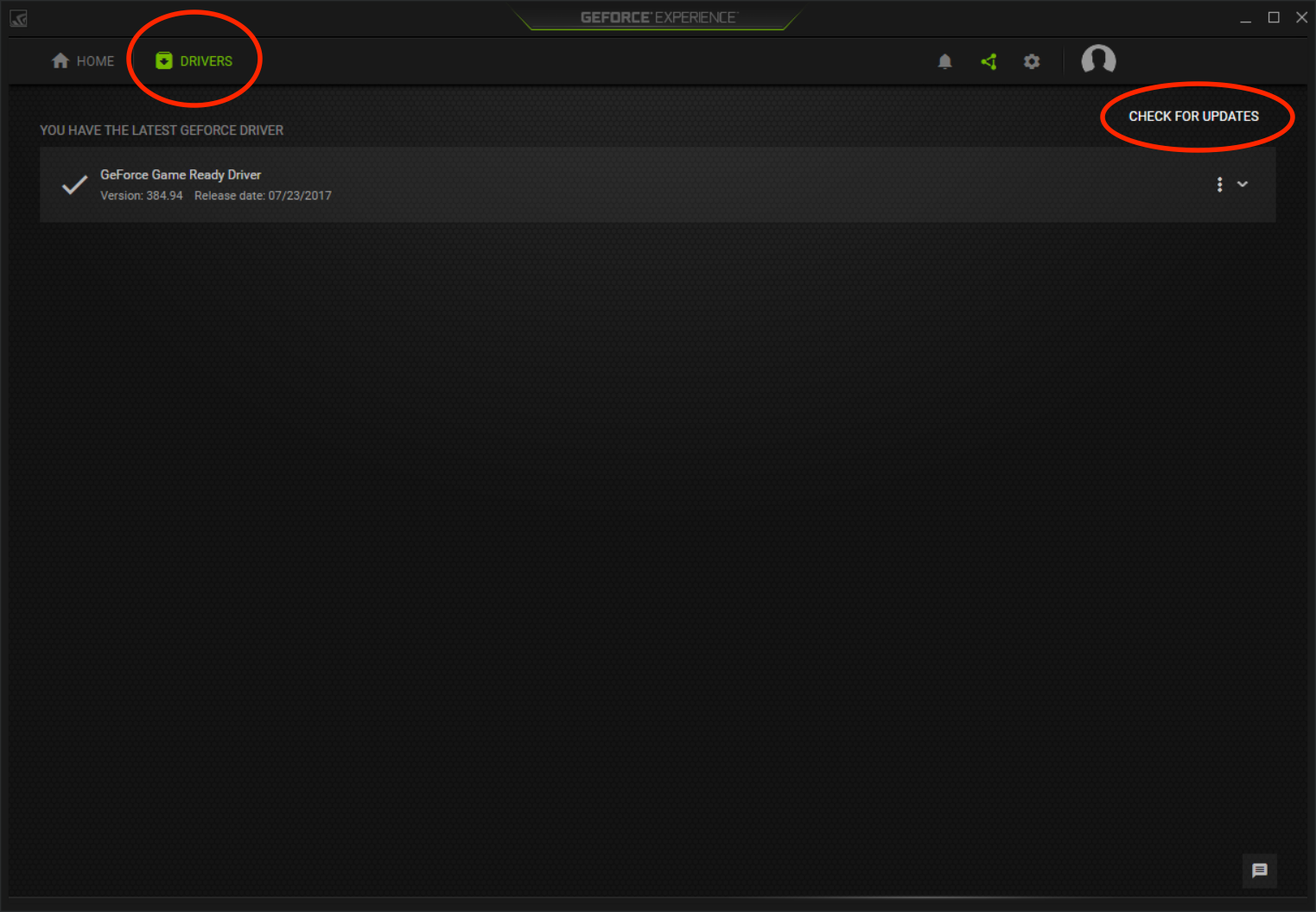 Other potential graphics card issues
If you determine that your graphics card drivers are up to date after following the below instructions, make sure that your VR headset is connected to the correct graphics card on your computer. Often your computer may have both an integrated graphics card (with less processing power) and a dedicated/discrete graphics card, with separate HDMI ports that correspond to each graphics card. 
Sometimes, gaming laptops provide functionality that allows the user to switch between the integrated and dedicated graphics cards (for either power saving applications or high performance). This functionality may be available through software on your computer, or may be a physical switch on the device (example below). If you're running Prospect on a gaming laptop, ensure that you have the dedicated graphics card enabled.